LSC-University Park Creates Collaborative Video Message of Support to Inspire Community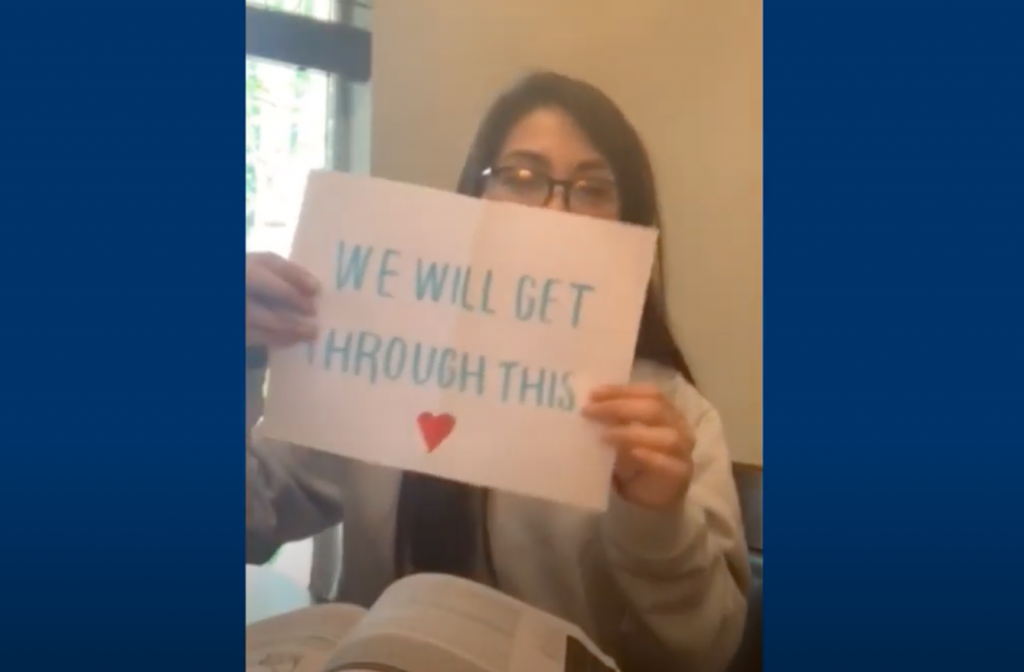 During these uncertain times, Lone Star College-University Park is finding ways to offer support and encouragement to students and the community. LSC-University Park is emphasizing the importance of community involvement, unity and perseverance during times when most people feel social distancing is costing human connection. The college found a creative solution to connect faculty, staff, students and community through a video project that shares a message of hope. The "UPlifting Notes" video has been viewed by thousands and shared across multiple social media platforms.
"At LSC-University Park, we value our relationships with our students and community and want them to know that we are their community's college," said Dr. Shah Ardalan, LSC-University Park president. "Through "UPlifting Notes," we hope our students and community feel more connected to our college even when they cannot physically be at our college. Even though social distancing may put miles between us, our caring and compassionate faculty and staff are always here for them. We understand many of our students are going through troubling times, and I hope this video gets the message out that we have been and always will be here to help."
The video includes LSC-University Park administrators, faculty, staff and students alongside family and first responders seemingly passing notes of positive sentiment to one another. However, the video utilized the camera frame as a point of connection so that none of the participants were in the same space and could participate from home.
"This time in our country and communities is unprecedented and people are facing many unknowns. Our college wanted to show that there is still ample opportunity for positive connection and that we're all in this together," said Keri Porter, LSC-University Park chief strategist of innovation and research. "People throughout our college were excited to participate and bring smiles to our students, co-workers and community."
"Our family participated in the video because the COVID-19 pandemic has created a feeling of isolation around the globe," said Catherine Dumond, LSC-University Park dean of enrollment management. "This was a chance for us to spread some positivity and ensure that everyone knows they are supported. I love how the video turned out and we were so happy to be part of it!"
So far, the video has had more than 3,000 views and over 100 shares across Facebook, Instagram, Twitter and YouTube. To watch the video, visit bit.ly/UPliftingNotesVideo1. The video is also available on Facebook, Instagram and Twitter for sharing to spread positivity in your own circle.
The college hopes to release a follow-up video to further brighten the social media feeds of those practicing social distancing at this time. The college is continuing to accept "UPlifiting Notes" videos submissions at bit.ly/UPliftingNotes.
The college continues to explore multiple methods of connecting and communicating with students, faculty and staff and have developed a range of resources responsive to their needs as they learn and work remotely. From Cisco WebEx seminars on study habits and managing anxiety, to live open forums with administration, all resources ensure students and employees are taking care of themselves and have the knowledge to succeed in an online format. Students are continuously engaged as the LSC-University Park Office of Student Life hosts virtual museum tours and crafting events online. The college plans to release further training on mental health and well-being in the coming weeks, including a panel discussion on the psychological and sociological impact of the COVID-19 pandemic.
For more information about LSC-University Park and registration for the summer and fall semesters, visit LoneStar.edu/UP or email UP-Information@LoneStar.edu.
Established in 2012, Lone Star College-University Park has been recognized as one of the fastest growing and most innovative institutions of higher education in the country. Under its founding president, Dr. Shah Ardalan, LSC-University Park is devoted to impacting the community's prosperity and upward mobility through student success. The college's competent and compassionate faculty and staff provide students with holistic and immersive education and training in disciplines and industries that meet current and future workforce needs. Standout college facilities include the Center for Science & Innovation, the Energy & Manufacturing Institute, the Learning Innovation Labs and the Geology Rock Wall. For more information about LSC-University Park, please visit LoneStar.edu/UP or call 281.290.2600.
Lone Star College offers high-quality, low-cost academic transfer and career training education to 99,000 students each semester. LSC is training tomorrow's workforce today and redefining the community college experience to support student success. Stephen C. Head, Ph.D., serves as chancellor of LSC, the largest institution of higher education in the Houston area with an annual economic impact of nearly $3 billion. LSC consists of seven colleges, eight centers, two university centers, Lone Star Corporate College and LSC-Online. To learn more, visit LoneStar.edu.