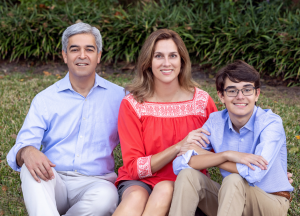 My family's story is about the American Dream. My great-grandfather brought his family to the U. S. from Mexico in 1908 looking for a better life and security. My grandparents, Julian, after whom I was named, and Consuelo, were sharecroppers during the Great Depression. My mom and dad both grew up on farms. After they got married and had children, my family lived "across the tracks" in Rosenberg's north side barrio. We went to Our Lady of Guadalupe Church in Rosenberg every Sunday.
Growing up, my brothers and sisters and I stocked shelves and worked the cash register in our very small family grocery store. The experience taught us the value of hard work and the importance of providing a service to the community.
Although my parents had attended school for only a few years, they knew the value of getting an education and made sure their children had the opportunities they didn't. My six siblings and I all graduated from high school and attended college. I earned my Bachelor of Arts and Juris Doctorate degrees from the University of Texas at Austin.
My career in public service began in 1989 at the Harris County District Attorney's Office, where I served for more than 27 years. During that time, I prosecuted thousands of felony cases and tried more than 150 first-chair jury trials for crimes ranging from death penalty capital murders to DWI's. I was promoted to chief felony prosecutor in 1994, managing large dockets of felony cases, and division chief in 2007. As division chief, I oversaw multiple felony courts, the public corruption unit, and the civil rights division. I have also handled many gang cases, high-profile matters, and complex investigations.
I retired from the DA's Office at the end of 2016 but have continued prosecuting cases for the State of Texas as an attorney pro tem on a contract basis. Since 2017 I have tried violent crime cases, including capital murder and murder, to guilty verdicts.
In my 32 years handling criminal cases, I have practiced before dozens of judges and seen what works and what doesn't. That experience and the experience of managing dockets as a chief prosecutor will allow me to reduce the court's bloated docket and keep it at a level where justice can be obtained promptly.
I have taught thousands of Houston Police Officers and Texas prosecutors about various criminal and investigative topics.
I am active in my church and my son's boy scout troop. I live in Houston with Caroline Dozier, my wife of more than 24 years, our 14-year-old son, and our two dogs.
I am running for Judge of the 248th District Court because the current judge has endangered our community with bad bail decisions and clogged up the court's docket through mismanagement. With my 32 years of experience handling criminal cases I know I can do a better job. I ask for your vote.