Interns Report for the First Day at Work as Part of Mayor Turner's Signature "Hire Houston Youth" Initiative
Thousands of young people began summer internships Monday with more than 180 employers across the Houston area as part of Mayor Sylvester Turner's Hire Houston Youth initiative.
The paid positions allow young people, ages 16-24, to explore opportunities in the private sector, nonprofit, and government positions relevant to their interests. Positions are available in many fields of study, including retail, restaurants, transportation, healthcare, construction, nonprofit, STEM, and government.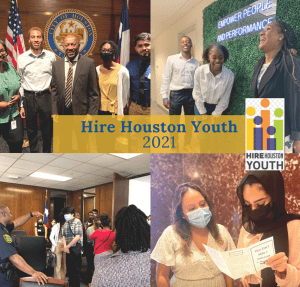 "It is a great day in the City of Houston when young people can gain work experience like this," said Mayor Turner. "The opportunities in the Hire Houston Youth program are about more than a summer job. These interns are getting hands-on experience with companies and organizations that will help define their future career opportunities and shape our wonderful city."
Most of the HHY jobs are in the private sector and with nonprofit organizations. The City of Houston also offers internships in many departments, including the Mayor's Office, Department of Neighborhoods, and the Houston Police Department.
"In the future, I want to own my own company," said Alex Butler, a UT student who is interning in the Mayor's Office of Communications entering his sophomore year. "I think that learning to do the communications and things like social media, press releases, and all these other things that go into communicating with the people inside and outside of your business would be really beneficial to me.
Zarah Naqvi will be attending UH in the fall, but has already begun her internship, working under the Director of Boards and Commissions.
"At my age, it's hard to find good work experience. I thought it would be a really good experience because I see myself going into law," said Naqvi.
The Hire Houston Youth program has reached tremendous strides, growing from 450 positions in 2015 to over 10,000 job opportunities in 2019. However, due to the pandemic, HHY transitioned to a virtual "earn and learn" program in 2020. The move allowed its participants to train and work in a remote setting. This year, the program has filled more than 5,000 positions.
A Hire Houston Youth Career and Resource fair will be held virtually on June 17, at 10 a.m. Youth can apply for jobs by visiting https://www.hirehoustonyouth.org.
Source: www.houstontx.gov