How the Miami-Dade condo collapsed
A 12-story condo building along the beachfront in Surfside, Fla., partially collapsed early Thursday morning, killing at least four people and injuring at least 10 more. More than 150 others remained unaccounted for on Friday, as rescuers tried to tunnel into the rubble.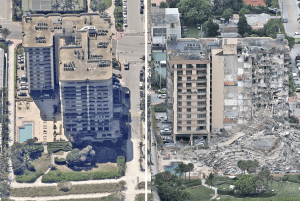 Investigators say it is too early to know what caused the building's collapse. A Washington Post examination of videos, photos and audio shows the building collapsed in less than 30 seconds.
Located at the corner of Collins Avenue and 88th Street, Champlain Towers South contained 136 condo residences. Completed in 1981, the building boasted luxury amenities and beachfront access.
A video filmed roughly 300 feet away captures the moment of collapse. First published on Twitter by journalist Andy Slater, the video appears to show the northern section of the building fold onto itself first, quickly followed by the ocean-facing eastern tower.
A security camera video from resident Rosie Santana's unit shows debris beginning to fall from above. The video feed cuts just over 13 seconds later when audio suggests the building begins to collapse.
Within 30 seconds, nearly half of the building had collapsed, and plumes of smoke enveloped the vast majority of the remaining structure. Miami-Dade Assistant Fire Chief Ray Jadallah told reporters that 55 units in the building were affected.
Shortly before 1:30 a.m., a dispatcher on an emergency response channel reported a "building collapse" and a "garage collapse" at the same address and said that all units were responding. Rescue crews from Miami-Dade Fire Rescue rushed to the scene just after 1:30 a.m., joining first responders from other agencies, Jadallah told reporters.
In radio feeds, unsettling descriptions of the scene came through as first responders began to arrive. One warned arriving vehicles to park at a light near the incident site. "We need a containment area. This building does not look stable." Responders noted survivors were stuck on their balconies because there was no exit route through the building's interior. An official who identified himself as "76" compared the scene to the aftermath of the 9/11 attack. "The building's gone. There are
no elevators. This, this is nothing, I mean. It almost resembles the Trade Center."
Emergency responders climbed piles of rubble that in some places appeared to be more than six feet high, as furniture and air-conditioning units dangled above them from the edge of the building.
Actor Jamal Akakpo had been staying in a hotel next to Champlain Towers South. He posted videos from the scene showing emergency responders and a pile of rubble. One man who claimed to be in the building when it started to collapse said the event "felt like an earthquake."
More than 12 hours later, the scene continued to smolder as rescuers searched for missing people. In a video shared by Miami-Dade Fire Rescue, firefighters waded through the flooded parking garage beneath the towers searching for survivors.
Source: www.washingtonpost.com