How Much Did Chris Rock Get Paid for His Netflix Special?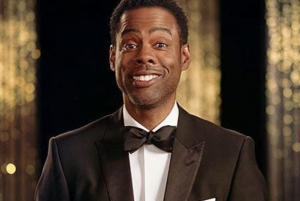 It's no secret that Netflix has been betting big on stand-up comedy. But this weekend marked a landmark moment for the streaming platform with its first-ever live streamed event, which could mean big things for its future in comedy.
Chris Rock's comedy special Chris Rock: Selective Outrage aired on Netflix Saturday evening, bookended with star-studded pre and post-show specials featuring the likes of Jerry Seinfeld, David Spade, Amy Schumer, and more. This event also doubled as the first time the veteran comedian addressed his infamous slap from Will Smith at the 2022 Oscars.
According to a 2016 report from The Hollywood Reporter, Rock's Saturday special was part of a $40 million deal he made with Netflix for two stand-up specials. Though Netflix has not confirmed the amount Rock was paid per deal, THR wrote at the time, "The $20 million per special is believed to be more than such A-list comedians as Louis C.K., Jerry Seinfeld and Amy Schumer have commanded."
Selective Outrage comes almost five years after Rock's first Netflix comedy special, Chris Rock: Tamborine. The deal was reportedly made following a big bidding war and marked the end of Rock's previous long-term partnership with HBO.
Considering the stacked roster of comedians who appeared in the pre and post-shows, that night of comedy probably racked up to be a lot more than just $20 million.
Rock spent the hour-long special talking about woke culture, his relationship with his daughters and what it's like dating as a single father. But he did not hold back when it came to talking about Smith, who slapped him across the face on live television while he was presenting at last year's Oscars.
The comedian placed much of the blame on Smith's wife, Jada Pinkett-Smith.
"She hurt him WAY more than he hurt me … everybody called him a bitch. And who's he hit? Me!" he joked in his special.
Live streaming events may be a valuable market for Netflix to break into, but it's worth asking if Selective Outrage is actually worth the alleged $20 million price tag.
Source: decider