Houston Texans release 2021 schedule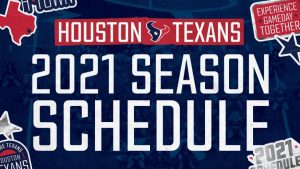 The Houston Texans have released their 2021 season schedule and for the first time, it's an 18-week schedule. It includes a preseason matchup with the Super Bowl champs, a showdown in Arizona with J.J. Watt, DeAndre Hopkins, and the Arizona Cardinals, and more.
As for primetime regular-season games, the Texans have one on the third week of the season. It's a Thursday night home game against Carolina.
Here's a rundown of the full schedule.
Houston Texans preseason
At Green Bay, Saturday, August 14, 7 p.m.
At Dallas (Date and time TBD)
Tampa Bay, Saturday, August 28 at 7 p.m., 
Houston Texans regular season
Week 1: Jacksonville, Sunday, September 12 noon
Week 2:  at Cleveland, Sunday, Sept. 19 noon
Week 3:  Carolina, Thursday, Sept. 23, 7:20 p.m.
Week 4:  at Buffalo, Sunday, October 3 at noon
Week 5:  New England, October 10 at noon
Week 6:  at Indianapolis, Sunday, October 17 at noon
Week 7:  at Arizona, Sunday, October 24 at 3:25 p.m.
Week 8:  LA Rams, Sunday, October 31 at noon
Week 9:  at Miami, Sunday, November 7 at noon
Week 11:  at Tennessee, Sunday, Nov. 21 at noon
Week 12:  New York Jets, Sunday, Nov. 28 at noon
Week 13:  Indianapolis, Sunday, Dec. 5 at noon
Week 14:  Seattle, Sunday, Dec. 12., at noon
Week 15:  at Jacksonville, Sunday, Dec. 19 at noon
Week 16:  LA Chargers, Sunday, Dec. 26 at noon
Week 17:  at San Francisco, Sunday, Jan. 2 at noon
Week 18:  Tennessee, Sunday, Jan. 9
The season starts with a home game against division rivals, the Jacksonville Jaguars.
The Jaguars, who had the No. 1 pick in the draft, will take on the Texans at NRG Stadium on Sunday, September 12 at noon. You can watch the game on KHOU 11.
It'll be the debut of the Jaguars quarterback Trevor Lawrence, who led the Clemson Tigers to the college football title in 2019.
It'll also be a matchup of new coaches as David Culley for Houston and Urban Meyer in Jacksonville make their debut.
According to the team, the rest of the schedule will be released tonight on HoustonTexans.com and the NFL Network.
Source: www.khou.com