Houston Mayor Sylvester Turner says he's tested positive for COVID-19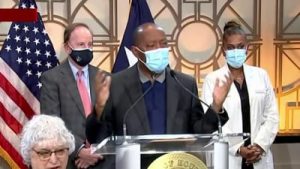 Houston Mayor Sylvester Turner announced Friday that he has tested positive for COVID-19.
Turner said in a released statement that his symptoms are mild and he wasn't feeling well overnight, adding that he initially thought he was suffering from allergies or a sinus infection.
All scheduled events for Mayor Turner have been canceled.
The full statement reads:
"This afternoon, I learned that I tested positive for the virus that causes COVID-19. I was not feeling well overnight and thought I was suffering from allergies or a sinus infection, so I decided to get tested before starting my daily schedule. Before and after getting my test results, I canceled all events for today and the weekend. My symptoms are mild, and I will spend the next several days isolating myself at home and getting some rest."
A spokesperson for Turner told KPRC 2 that Vice Mayor Pro-Tem Martha Castex-Tatum will assist with mayoral duties.
City of Houston Health Authority Dr. David Persse said since the mayor was vaccinated and only has mild and not severe symptoms, this should be considered a vaccine success and not a failure.
"He says he's feeling pretty good. He does have some mild symptoms but other than that he's feeling pretty good and I really want to thank the mayor because he did everything right," Persse said. "As soon as he got symptoms, he reached out. We were able to get him tested right away, got the test results back, he isolated himself as soon as he started feeling poorly and has been isolated ever since."
The city and Texas Children's Hospital are hosting a vaccine clinic for the whole family at the George R. Brown Convention Center until 8 p.m. Friday night.
They say this is especially timely as infections have nearly tripled in the Texas Medical Center in the last week.
Houston Methodist said 45% of their patients have been diagnosed with the Omicron variant.
Pediatric COVID cases at Texas Children's have more than doubled in the past three days.
Mary Lee's son is one of the cancer patients at Texas Children's. He was vaccinated Friday afternoon.
"I feel safer because I've already lost a child to leukemia and I wasn't prepared to lose a child to COVID," Lee said.
Source: www.click2houston.com