Houston Man Sentenced to 20 Years in Prison for Shooting Innocent Bystander at Jersey Village Grocery Store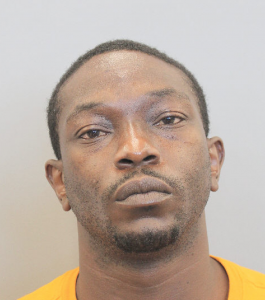 A Houston man has been sentenced to 20 years in prison and a $10,000 fine for shooting an innocent shopper in the parking lot of a Kroger grocery store in the Jersey Village area, Harris County District Attorney Kim Ogg announced Tuesday.
"The citizens of Harris County are tired of gun violence, especially a case like this in which an incident of domestic abuse led to an innocent shopper being shot six times," Ogg said. "Innocent people should not have to worry about being shot while putting their groceries in their car."
Kendrick Green, 37, was sentenced by a jury last week after being convicted of aggravated assault with a deadly weapon for shooting a 33-year-old man at the Kroger at 9125 W. Sam Houston Parkway about 11:50 p.m. on Aug. 6, 2021.
Green was driving a Lexus SUV with a woman he had been dating for about a month when they got into an argument. She wanted to be dropped off at her home, and he did not want to take her there. During the argument, he brandished a handgun, which frightened her. When they stopped at Kroger, she ran into the store and hid in the women's restroom.
Witnesses saw Green shouting at the woman outside the grocery store, and then he started shouting at a man who was loading groceries into his red Mercedes sedan. When the Mercedes driver got into his car, Green got into his Lexus, circled the parking lot and pulled up next to the victim. For safety, the victim drove toward the front of the store. Green then pull up next to the car and both men rolled down their windows. Green began yelling at the victim and then opened fire.
Green fired eight shots into the door of the Mercedes, hitting the victim in his arms and torso at least five times and grazing his neck and chin.
Both men drove away, but after Green was gone, the victim returned the store to get help. The Harris County Sheriff's Office responded and conducted the investigation. The victim survived and testified at trial.
Assistant District Attorney Winston Griner, who prosecuted the case with ADA Danielle Oxford, said the victim spent months in recovery and had several surgeries because of the incident.
"This was a senseless and egregious crime," Griner said. "The defendant targeted a complete stranger, someone he never met, and then pursued him and almost killed him."