Houston First & Levy Donate Food to Ronald McDonald House During Coronavirus Crisis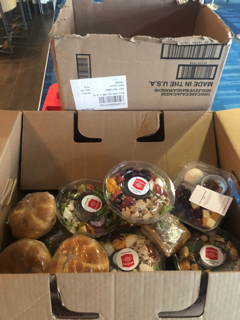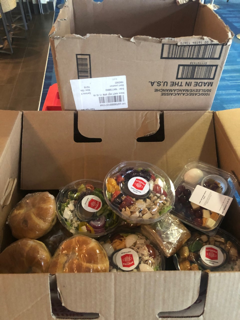 Due to meeting cancellations, Houston First Corporation and food vendor, Levy Premium Food Service, are partnering to donate unused prepared food from the George R. Brown Convention Center (GRB) to Houston's Ronald McDonald House in the Texas Medical Center.
A number of conference and meeting cancellations at the GRB due to the evolving situation surrounding COVID-19 coronavirus have resulted in the temporary closing of the grab 'n go Avenida Eats and Starbucks both located inside the convention center. More than 150 freshly made sandwiches, salads and fruit cups have been delivered to families staying at the Ronald McDonald House.
"The children and families of Ronald McDonald House Houston are greatly appreciative of the generous donation from Houston First and Levy. All donations are welcomed, but we are especially grateful to have additional help to sustain our families during this very difficult time," said Rick Noriega, CEO, Ronald McDonald House Houston.
"Families at the Ronald McDonald House already are facing adversity, so we are pleased to join our partners at Levy to provide what we hope will be at least a small measure of comfort and support," said Brenda Bazan, president and CEO of Houston First Corporation. "Helping our neighbors, particularly during a time made more difficult by coronavirus concerns, is a no-brainer for the Houston First team, and we want to encourage others to consider simple ways they might assist local non-profits now as well."
About Ronald McDonald House Houston
Ronald McDonald House Houston (RMH Houston) provides families with a home away from home: a safe, comfortable, affordable place to live while their child receives treatment for a life-threatening illness inside the Texas Medical Center. While meeting the families' most vital need for a place to stay, RMH Houston also offers meals, activities, and opportunities to connect with other families facing similar crises. For more information please visit www.rmhhouston.org, or follow us on Facebook.
About Houston First Corporation
Houston First is the official destination management organization for the city of Houston. In addition, Houston First owns the Hilton Americas-Houston hotel, manages the George R. Brown Convention Center along with 10 city-owned properties and developed the Avenida Houston entertainment district. Learn more at HoustonFirst.com.