Harris County Law Library Renamed to Honor Civil Rights Leader Robert W. Hainsworth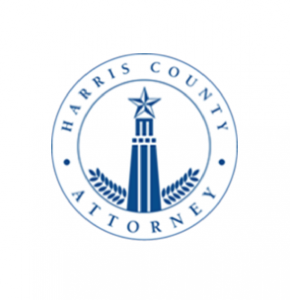 Today, Harris County Commissioners Court adopted a resolution, introduced by Harris County Commissioner Rodney Ellis and led by Harris County Attorney Christian D. Menefee, to rename the Harris County Law Library in honor of Robert W. Hainsworth.
In 1951, Mr. Hainsworth filed a lawsuit challenging the "one-table rule," which was a Law Library rule requiring African-American attorneys to use a single, designated table while working in the library. While the courts denied his call for equality, it is only fitting that the Law Library be rededicated to acknowledge the victory of his vision. Today's Law Library is a place where everyone has a seat at any table.
"Mr. Hainsworth's determination in the fight for equality is an inspiration for us all, especially those attorneys and self-represented litigants who so often use the Law Library," County Attorney Menefee said. "He was a trailblazer. His work on this case and in later founding the Houston Lawyers Association shows that he was relentless."
"I am very proud to support renaming the Harris County Law Library after Robert W. Hainsworth, especially during Black History Month," said County Commissioner Ellis. "Hainsworth's fight to desegregate the courthouse and law library paved the way for generations after him. It is only fitting that we would name our law library, which helps to make the legal system more accessible to all, in his honor."
"We are planning projects with community partners to create a permanent exhibit in the library and to offer educational programs to raise awareness about Robert W Hainsworth and his work for equality in Harris County," said Law Library Director Mariann Sears.
Today's Law Library rededication was widely supported by local leaders and legal organizations at Commissioners Court, including the Houston Lawyers Association (HLA), the Houston Young Lawyers Association, the Houston Area Law Librarians, the Houston Bar Association (HBA), HLA president R.J. Blue, HBA president Bill Kroger, and several former HLA leaders.
About the Harris County Robert W. Hainsworth Law Library
The Harris County Robert W. Hainsworth Law Library opened its doors in 1915 as the Harris County Law Library, and it has continued to serve Harris County's legal information needs for more than a century. After becoming a part of the Office of the Harris County Attorney in 2011, the Law Library greatly expanded its technology offerings and services to the public. Visit www.harriscountylawlibrary.org for more information.