Harris Co. Judge Lina Hidalgo, Mayor Turner subpoenaed over A.J. Armstrong's change of venue hearing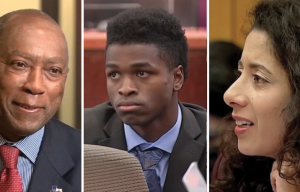 A variety of Houston-area lawmakers, judges, and elected officials have been called to a courtroom Monday as a hearing gets underway to help determine if A.J. Armstrong's third murder trial should remain in or move out of Harris County.
ABC13 first reported on the rare move of having the judge, in this case, be the one to file a motion to move the case out of the county after Armstrong's first two trials ended in hung juries.
Harris County Judge Lina Hidalgo and Houston Mayor Sylvester Turner are two of the nine witnesses being subpoenaed to appear on behalf of Armstrong's defense team, which is bidding to keep his third murder trial set for February within the county.
ABC13 obtained documentation Friday showing the various elected officials being called upon.
The subpoenas were served in concert with Armstrong's lawyers filing an objection to Judge Kelli Johnson's motion to change the venue of the trial, which would be the third such proceeding since 2019.
The defense argues that 12 fair and unbiased jurors can be found in among the diverse 4.7 million people who call Harris County home. In paperwork filed by the defense, attorneys point out previous highly-publicized local cases that gained national attention, yet stayed in Harris County for trial, like the David Temple murder case. Temple was convicted of murdering his pregnant wife Belinda in 1999, during his second trial here.
The nine witnesses are being called to testify about how diverse the county is and that it's the best place to have a fair trial for Armstrong, who wound up with two mistrials for the murders of his parents, Dawn and Antonio Armstrong Sr. in 2016.
The list of witnesses subpoenaed includes:
State Rep. Gene Wu, D-House District 137
Ed Gonzalez, Harris County Sheriff
Lina Hidalgo, Harris County Judge
Sylvester Turner, Houston Mayor
State Rep. Ann Johnson, D-House District 134
Marilyn Burgess, Harris County District Clerk
Rodney Ellis, Harris County Commissioner Precinct 1
Susan Brown, Presiding Judge, 11th Administrative Judicial Region
Adrian Garcia, Harris County Commissioner Precinct 2
Court paperwork shows the state has subpoenaed two witnesses, who we're told are experts in cell phone technology. It's unclear why prosecutors have called them to testify at a change of venue hearing.
All witnesses have been told to arrive for Monday's hearing in time for the 1:30 p.m. gavel.
Source: abc13