Governor Abbott Celebrates 100 Years Of State Parks In Texas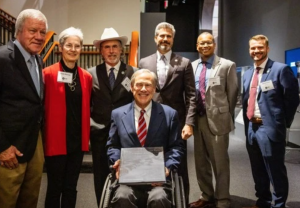 Governor Greg Abbott tonight celebrated 100 years of Texas state parks at the Texas State Parks Centennial Celebration at the Bullock Texas History Museum's The Art of Texas State Parks exhibit in Austin. During his keynote address, the Governor praised the economic impact Texas state parks have on local communities and highlighted the conservation efforts made by the Texas Parks and Wildlife Department (TPWD).
"Nearly 10 million people visit Texas' 30 state parks each year, spurring the economy of many small Texas communities and supporting thousands of jobs across our state," said Governor Abbott. "Our state parks are drivers of our booming tourism industry, inviting both Texans and out-of-state visitors to witness the majesty of Texas up close. My first experience with Texas state parks was as a Boy Scout, taking trips to Daingerfield State Park and Caddo Lake. Since then, state parks became central to my deep appreciation for Texas' beautiful landscapes. We must work together to ensure that what makes our state so unique and beautiful is here for generations to come."
The Governor was joined by TPWD Chairman Arch "Beaver" Aplin III, Executive Director Dr. David Yoskowitz, and Director of State Parks Rodney Franklin.
The Centennial Celebration of Texas State Parks launched on January 1 and will continue throughout 2023. To celebrate 100 years, every state park will host at least one special event throughout the year, including The Art of Texas State Parks at the Bullock Texas History Museum in Austin. The exhibit will run through April 30 and feature more than 30 works of art depicting Texas state parks done by some of Texas' finest artists. It will also travel to several different museums across the state.
Source: gov.texas