EVA LOREDO – A PASSION FOR EDUCATION FOR ALL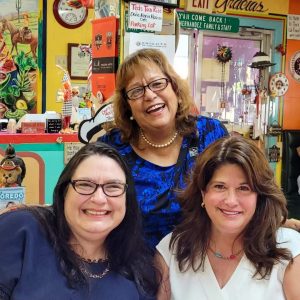 RE-ELECT EVA LOREDO FOR HOUSTON COMMUNTY COLLEGE BOARD DIST. 8
By Blanca Estella
Eva Loredo, a second generation Houstonian, has a passion for education for all. It began over 35 years ago when she became a school teacher at HISD at John R. Harris elementary school in Houston's Eastside – in the historical Harrisburg area where Houston got it's start.
"My passion for education began when I became a teacher, and I saw the enthusiasm on the children's faces, as well as, their parents as they became more involved in the classroom," said Loredo.
Eva Loredo is an Eastend prodigy graduated in 1970 from Milby High School, went on to obtain her Bachelor of Science in Education from Texas Southern University and continued her education at University of Houston and obtained her Masters in Curriculum & Instruction.
Still, while working on her Administration-Mid-Management Certificate to fulfill her quest to becoming a principal, Loredo dedicated herself to education and continued working in the classroom during her years in college.
In 1995- 2006, she was the principal at Gallegos Elementary with over 1,000 elementary students, under her leadership. Loredo was constantly looking for creative ways for the students to stay focused.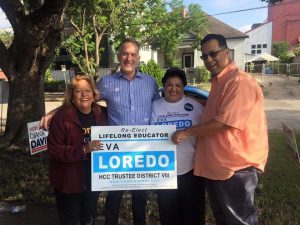 "Not only do you have to work hard, but you have to keep students occupied with "fun stuff" to keep the students wanting to learn," said Loredo. The program that Loredo describes kept the students engaged, which she provided for all students, called, "The Afterschool Programs" which included math, sciences, fine arts with music, drawings, and dance, including sports activities.
In addition to making sure students engaged in learning activities, Loredo saw a need for the children to have a healthy breakfast and afterschool snacks. She engaged community supporters, such as Aramark Foods, to help support her idea in starting a pilot program to feed all the children a nutritious breakfast, no matter their income.
Loredo comments "the children could not believe that some breakfasts were at no cost." Before this program many of these families did not have the resources to pay for breakfast and lunch – they'd have to choose either one or the other.
The breakfast program for school-age children was so successful at Gallegos Elementary school, that it went HISD district-wide and now the "breakfast" program is administered nationwide thanks to Loredo's breakfast pilot program. Another successful motivational program that Loredo developed for
those students, who had "perfect" attendance and made the "honor roll" was a trip to AstroWorld and attendance at an Astros game. "These students felt rewarded for their hard work, and the parents were so excited to be involved, as chaperones, on this type of activity," said Loredo, "Se necesita la familia para tener exito en estos tipos de programas."
During her years of being an assistant-principal and a principal, Loredo took pride in mentoring staff and other teachers that were under her leadership to aspire to become teachers and principals, as well.
With determination and her education, Loredo progressed as a teacher – assistant to becoming a principal, and now is currently serving as Houston Community Board Trustee Dist 8. She has held that position for past 12 years, and has gained the experience needed to serve the community on the Board and to be voice for the community she serves, the students and the staff. Loredo has overseen the HCC Bond program, which entails keeping the bond program within the budget. Her strengths have been programs for students' success in academics and workforce resulting in a high graduation rate. Loredo reaches out to the community and informs of scholarships and monies available for tuition and fees, such as, the HERF Funds for tuition and fees, and $59 million emergency funds available for registered HCC students to apply for technology or other needs. "Please call HCC for details and apply during Oct. 1st thru Oct. 5th, 2021," Loredo said.
Loredo is always seen in the community by her peers. She is a community volunteer, and is involved in working with many community organizations, such as, the Houston Food Bank, Salvation Army, American Legion #472, and American Heart Association, GLBTQ, as well as, supports the AFL-CIO Police and Fire associations, PIP, Barrio Dogs, and many others too numerous to name. In addition, she continues her strong faith and beliefs in her church and her family. Loredo has a deep passion for her community and education, and is a true leader, with experience, honesty and transparency, and wants to continue to serve as HCC Board Trustee of Dist. 8.
Loredo is now campaigning for Re-Election to the Houston Community College Board Trustee Dist. 8. Eva Loredo is a member of Houston Community Board of Trustees in Texas, representing Dist. 8. She assumed office in 2010, and her current term ends on December 31, 2021.
Loredo is running for re-election to the Houston Community College Board of Trustee to representing Dist. 8.
Look for Eva Loredo at the end of the ballot, and vote. Early voting starts Oct. 18th thru Oct. 29th. Election Day is Nov. 2nd.