Ernesto "Ernie" Perez, Sr. Retires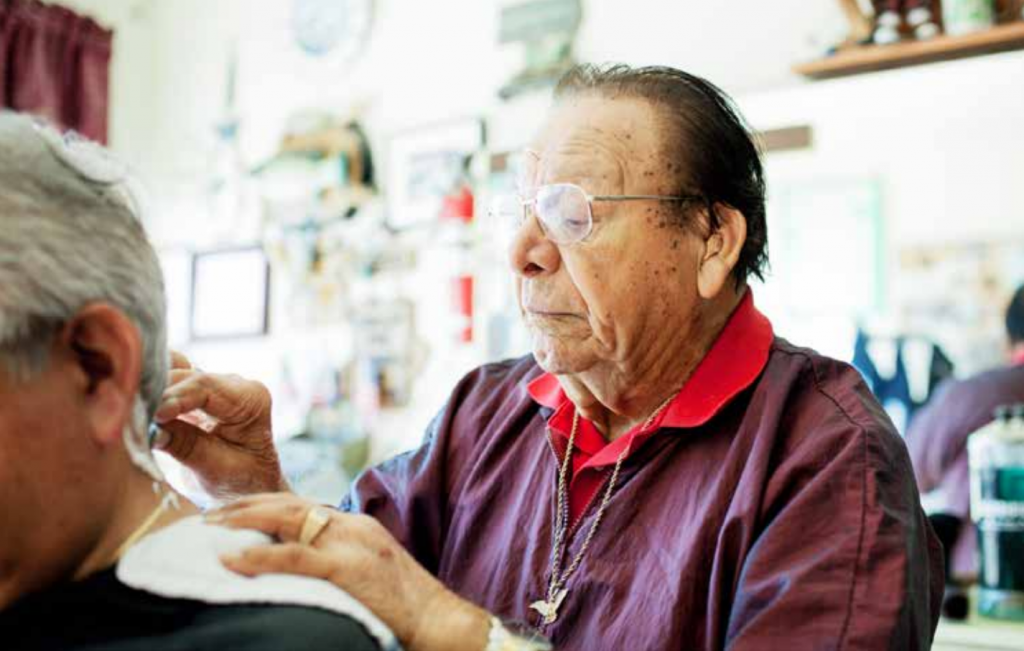 By Ruben R. Perez, Ernie's son, and Ernie's grandchildren, Matthew R. Perez, Esq. and Adriana Perez, Esq. Ernesto "Ernie" Perez, Sr. was born April 22, 1927 in Pandora, Texas. At the age of one, his family moved to Seguin, Texas where he has remained since. Seguin is where he met and married the love of his life, Susie, and where they raised 4 children. He was married to Susie for 73 years before her passing in 2016. Many of Ernie's family still reside in Seguin, including numerous grandchildren, great grandchildren and great-great grandchildren.
As WW II raged, at 18, Ernie was drafted into the Army Air Corps (now known as the Air Force). During his time in the Army Air Corps, he was stationed at various bases in Texas. His last duty station was Randolph Air Force Base (RAFB), and in 1948 he was honorably discharged. The story of Ernie "The Barber" began in 1949 when he attended Louie's Barbershop School on the GI Bill in San Antonio, Texas.
With a natural talent for cutting hair, Ernie was allowed to take clients in the school's annex before graduation. He charged 20 cents for a haircut and could keep 5% of his earnings. After graduating, Ernie began his master barber work in Seguin. He would charge 75 cents for a haircut and 50 cents for a straight razor shave. Remembering how often he would need a haircut in the service, Ernie decided to venture to Universal City, Texas. In Universal City, he developed a loyal roster of clients, many of whom still see Ernie today. Having established himself as a talented barber at various shops in Universal City, Ernie decided to open his own shop in 1969. Ernie's Barbershop, at 415 E. Aviation Blvd., Universal City, Texas opened for business and has remained open for 51 years.
On any given day, you would find Ernie cutting hair and talking fishing Tuesday-Saturday, 8 am-5 pm. There was a 28-year period (1955-1983) that Ernie would drive the 22 miles back home to Seguin, and continued cutting hair at his home barbershop well into the evening. From 1954-1955, on Wednesday evenings, from 6:00 pm to 10:00 pm, he would volunteer giving haircuts to boys at Boysville (a place for boys who came from broken homes and abusive situation who were provided a safe caring home) located in San Antonio, Texas.
Ernie has been a Master Barber for 70 years. He has given haircuts to many individuals from all walks of life and from all over the world, including members of the military, professional athletes, children getting their first haircuts, and his own family. Ernie has not only enjoyed providing his customers with haircuts and a precise straight razor shave, but exchanging stories of his favorite hobby: fishing. Ernie considers his customers not just customers, but his dearest friends.
After 70 years of being a barber, Ernie has decided to unplug the clippers and put away the scissors. His passion for barbering is something to be held and is evident by the length of time he dedicated to his craft. After all the years of Ernie's haircuts, shaves, and fishing stories, Ernie will now devote his time to fishing. His friends, customers and family all wish him a Happy Retirement.