DEEPER DIVE WITH BUFFALO BAYOU PARTNERSHIP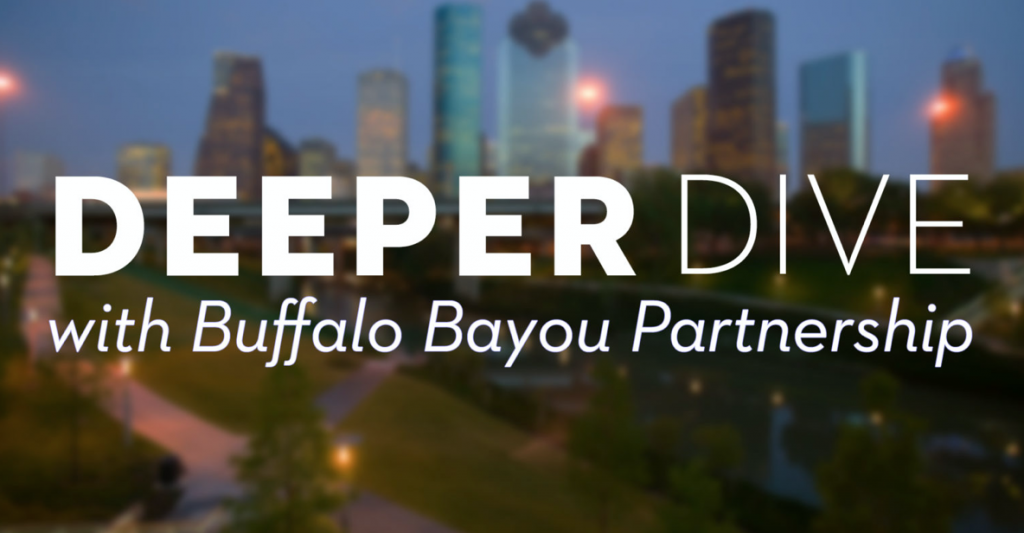 Last Thursday, Buffalo Bayou Partnership launched a new online series, Deeper Dive, to give you an inside-look at past projects, current initiatives and upcoming plans for Buffalo Bayou. Thanks to all who attended the first presentation led by BBP President Anne Olson! We appreciate the positive feedback and hope you learned something new about our non-profit organization.

Continuing with the series, we invite you to tune in to Deeper Dive: Buffalo Bayou East Master Plan this Thursday at 1:30pm. While most of BBP's green space development has occurred west of downtown, the organization has been acquiring property and building a trail system along the waterway's East Sector for more than a decade. With its recently released Buffalo Bayou East Master Plan for the area stretching from US 59 to the Port of Houston Turning Basin, BBP will bring the community's vision for its waterfront to life. Informed by significant outreach and engagement, the plan envisions integrating new parks and trails, dynamic recreational and cultural destinations, and connections to surrounding neighborhoods.

In this presentation, BBP Project Manager Jose Solis will discuss the history of the neighborhoods along Buffalo Bayou East, how we gathered input from the communities, the principles guiding the plan, what amenities you can expect in the coming years, and more.

To receive the link to the online event, please be sure to register. Attendees will be sent the link 10 minutes prior to the start of the event.