Davy Arnaud focused on "winning every day" to turn Houston Dynamo around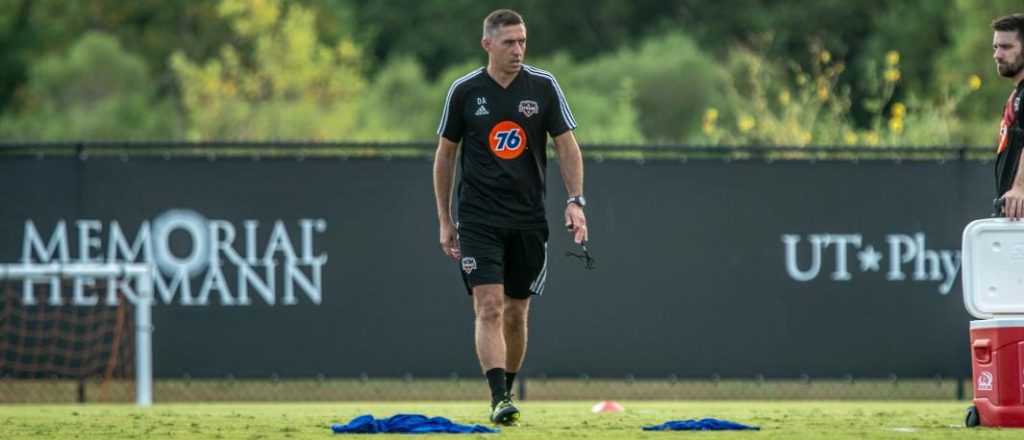 There's a lot going on around Davy Arnaud right now, but the newly-minted interim head coach of the Houston Dynamo is focused on only one thing: the present.
After his appointment to the job following the release of Wilmer Cabrera, Arnaud didn't have time to think through the personal and professional ramifications of taking the reigns as an MLS head coach for the first time.
"My focus has solely been on what can I do right now, what can we do right now to affect this organization in a positive way," the 39-year-old said in a press conference following his first training session in charge. "Our goal as a club is what we can do to affect this group in a positive way to turn this thing around."
The Dynamo have struggled to pick up points after starting the MLS regular season with a club-best 7-2-2 record. They have gone 2-11-1 since and fallen precipitously in the Western Conference standings as a result.
With nine games remaining, Houston is still just six points below the playoff line and faces a challenging, but winnable slate of games as they battle to return to postseason play. That would be the ultimate goal, but nobody's thoughts are on October yet.
"To prepare for that, we need to win every single day," Arnaud said. "The small goal for us is to go out to be great in training tomorrow and prepare well the next day, with the ideal thing being to get a positive result on Saturday against Colorado. If we can continue to do that daily, we can ultimately be back in a playoff spot."
Arnaud was born and raised in Nederland, Texas – an hour and a half east of Houston in the "Golden Triangle" near the Texas-Louisiana border – and starred at West Texas A&M University for three years before beginning an accomplished 14-year career in MLS.
The midfielder/forward moved to the sidelines in 2016 as an assistant at D.C. United, then moved back home to join the Dynamo's staff in 2017. General manager/senior vice president Matt Jordan said Wednesday morning that Arnaud "has the respect of all the players and staff" and will bring a "fresh perspective" for the final nine games of the regular season.
It's unlikely that Arnaud will implement wholesale changes to the team in his interim position. While acknowledging that he – like any coach – has his own ideas and beliefs, with only a few days to prepare for his first game instead of a six-week preseason camp his job at the moment is to make tweaks and solidify what the team is already doing instead of introducing something completely new.
"We've had success with this group of players playing a certain type of way," he explained. "We just need to get back to doing those things and fix the things we've struggled with lately."
Arnaud stressed that he believes in the group of players they have assembled on the roster, pointing out that it's still the same team that got off to that hot start in the spring. He wants to put confidence back in the group, for them to believe in themselves that they can turn it around.
That mentality starts with Arnaud and the energy that he and the rest of the coaching staff bring to the training field each day, trickling down to the players to carry into the weekend for the final stretch of the season.
"I'm a driven and passionate person, and I hope that you can see that in the way the players play," he said. "The more you're around the team and the more you approach the team as a head coach, they start to take on what your values are. That's my hope – that you see that as soon as possible."
"Will it happen overnight? No, but we're going to be doing everything we can to move back in the right way."