Coldplay y BTS presentarán 'My Universe' en los AMAs 2021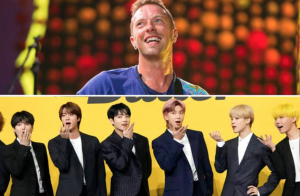 El éxito apabullante de 'My Universe' rompió internet y superó las expectativas de los fans. Sin embargo, el performance en vivo de la canción interpretado por Coldplay y BTS estaba pendiente, ya que cada agrupación había presentado el tema en sus shows de forma independiente.
Ninguno de los dos grupos había dado indicios de posibles presentaciones juntos hasta hace unas horas que se confirmó su asistencia a los American Music Awards (AMAS).
El próximo 21 de noviembre se llevará a cabo la entrega de los AMAS, cuyo objetivo es reconocer a los artistas, agrupaciones, singles y álbumes más exitosos de 2021.
---
Hay varias sorpresas para la edición 49 de este evento que se celebrará en el Microsoft Theatre de Los Ángeles, entre ellas, la conducción estelar que realizará la rapera Cardi B como anfitriona de los AMAS.
Por otro lado, la confirmación de que la agrupación británica Coldplay y la popular band boy BTS actuarán juntos, por primera vez en un escenario en vivo, enloqueció a los fans.
Coldplay recientemente estrenó su álbum Music of the Spheres en el que el tema 'My Universe' fue la antesala de otros éxitos y duetos con artistas como Selena Gómez.
Pero 'My Universe' no llegó solo a las plataformas de música, lo secundaron varias versiones más: una en acústico, el video oficial de la canción y un mini documental llamado Inside 'My Universe', que ya suma más de 14 millones de views.
---
Dónde ver Coldplay y BTS en los AMAS
La noche de los AMAS se coronará con el performance que realizarán Coldplay y BTS con 'My Universe', no obstante el grupo surcoreano hará doble show al lado de la cantante Megan Thee Stallion con quien interpretarán el éxito mundial 'Butter'.
Para seguir en vivo la transmisión de los American Music Awards 2021 este domingo 21 de noviembre, sintoniza el canal TNT.
Source: www.elfinanciero.com