Clubhouse rendering provided by Houston Golf Association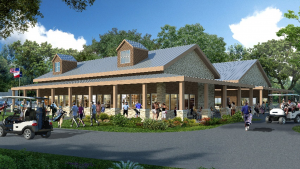 Houston Golf Association announces the start of construction on a new clubhouse at Gus Wortham Park Golf Course, the oldest continuously operating golf course in Texas. These updates mark phase two of renovations to the course and will include a grill, infrastructure to support updated parking, road improvements, and the addition of a short game practice area. The estimated completion date is late summer/early fall of 2021.  Phase one renovations completed in Oct. 2018 focused on a complete renovation of the golf course, overhauled golf course irrigation system for improved water conservation, new irrigation lake for stormwater retention, reestablished creek banks, and new cart paths.
A cherished icon of the East End, the renovation of Gus Wortham Park Golf Course is the result of a successful public/private partnership with the City of Houston — an initiative of the HGA to restore Houston's civic amenities for all to enjoy. Since reopening in 2018, Gus Wortham Park Golf Course continues to be a favorite public course amongst players, with over 100,000 rounds played.