Biden Transition Highlights: Biden Says He Will Ask Americans to Wear Masks During First 100 Days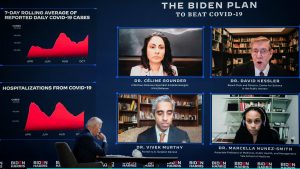 A deal still appears out of reach as Mitch McConnell and Nancy Pelosi discuss stimulus proposals. Vice President-elect Kamala Harris announced her top aides, including her chief of staff. The White House communications director for the Trump administration resigned.
President-elect Joseph R. Biden Jr. on Thursday pressed Congress and the nation to confront the worsening pandemic with urgency, as he also addressed fallout from President Trump's final turbulent days in office.
Mr. Biden's remarks came as part of a wide-ranging joint interview in which he and Vice President-elect Kamala Harris defended their cabinet appointments, alluded to covert Republican outreach to Mr. Biden and offered some of their most detailed remarks since winning the election about the next steps the country must take to battle the coronavirus crisis.
Mr. Biden said that on his first day as president, he would ask Americans to wear masks for 100 days. "Just 100 days to mask," he said. "Not forever. 100 days. And I think we'll see a significant reduction."
He also expressed support for the bipartisan stimulus compromise under discussion in Congress. He said it was a "start," even as he said that more relief would be needed as the nation reels from the pandemic's economic fallout.
"I think it should be passed," Mr. Biden said of the $908 billion proposal, though he added, "I'm going to have to ask for more help when we get there to get things done."
The joint interview came as Mr. Trump continues to push false claims of election fraud and declines to concede.
Asked whether it would be important for Mr. Trump to attend the Democrat's inauguration, Mr. Biden laughed, but conceded that such a move could help the country heal.
"Not in a personal sense," he said. "Important in a sense that we are able to demonstrate at the end of this chaos that he's created, that there is peaceful transfer of power with the competing parties standing there, shaking hands and moving on."
Plenty of Republican lawmakers have not yet recognized Mr. Biden as president-elect, either, but Mr. Biden, a relative centrist and former senator himself who insists that bipartisan deal-making is still possible, said that he had received some quiet outreach.
"There have been more than several sitting Republican senators who have privately called me and congratulated me," Mr. Biden said.
The president-elect also spent considerable time addressing his response to the pandemic, saying that he had asked Dr. Anthony S. Fauci, the nation's top infectious disease expert, to play a central role in his administration.
"I asked him to stay on in the exact same role he's had for the past several presidents, and I asked him to be a chief medical adviser for me as well, and be part of the Covid team," Mr. Biden said in the interview, adding that he had spoken with Dr. Fauci earlier in the day.
Many experts say the United States is headed into an especially brutal stage of the coronavirus pandemic, even as hopeful signs for a vaccine emerge.
Mr. Trump has been overtly critical of Dr. Fauci and frequently ignored the advice of health experts throughout the pandemic, despite testing positive himself for the coronavirus weeks before Election Day.
Mr. Biden expressed concern on Thursday about the prospect of Mr. Trump weighing pre-emptive pardons, including of his own children.
"It concerns me in terms of what kind of precedent it sets, and how the rest of the world looks at us as a nation of laws and justice," he said.
But Mr. Biden stressed, as he had in the past, that he will defer to his Justice Department for any possible response on the matter, emphasizing the importance of an independent department.
"I'm not going to be telling them what they have to do and don't have to do," he said. "I'm not going to be saying, 'Go prosecute A, B or C,' I'm not going to be telling them. That's not the role. It's not my Justice Department. It's the people's Justice Department."
Mr. Biden has not yet named his choice to lead that department, and he did not directly answer a question about whether he favored appointing a Black attorney general.
Mr. Biden is facing a range of pressures over the composition of his cabinet. Some supporters worry that he has not yet delivered on his promise to assemble a diverse administration that reflects the country, and progressives in his party are pushing for more representation.
"I promise you, you'll see the most diverse cabinet, representative of all folks, Asian-Americans, African-Americans, Latinos, L.G.B.T.Q., across the board," he said.