Bail jumping charges filed against DWI suspect blamed for 3 deaths in crash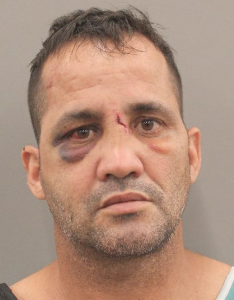 Bail jumping charges have been filed against Camilo Morejon, 48, the Cuban national accused of filming himself drinking and driving on Facebook Live just moments before causing a crash last year that killed three people, Harris County District Attorney Kim Ogg announced Tuesday.
"When someone kills three people while bragging about drinking and driving, they need to face justice," Ogg said. "We owe it to the victims. We owe it to the community."
Morejon was charged with four counts of bail jumping following having been charged with three counts of intoxication manslaughter and intoxication assault for slamming into a pickup truck in the 12200 block of FM 529 near Jersey Village.
He can be seen bragging about drinking and driving on a Facebook live shot by a passenger just before the crash that happened about 8 a.m. on Oct. 25, 2020.
The wreck killed Leosveyka Gonzalez, Massel Rodriguez, and Ricardo Rodriguez-Tamayo. A fourth person, who was in another vehicle, was injured and survived.
"It's terrible because there is video right before the crash happened that shows the defendant drinking and driving," said prosecutor Lynn Nguyen, with the Vehicular Crimes Division. "And we know now that he has just fled."
A judge revoked Morejon's bail Thursday after he failed to appear in court. Officials also said he had violated his curfew requirements. He had been ordered by the judge to remain under house arrest and, according to prosecutors, he is no longer at home.
When he is re-apprehended, he will face 2 to 20 years in prison for each charge of intoxication manslaughter. He will also face the four bail jumping charges, which each carry a sentence of two to ten years in prison. The case was investigated by the Harris County Sheriff's Office.
Crime Stoppers is offering a reward of up to $5,000 for information leading to his capture.
Anyone with information is encouraged to contact Crime Stoppers at 713-222-TIPS (8477).