'Avatar 2' Making Way To $2B Global This Weekend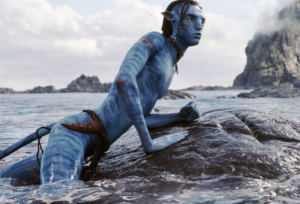 James Cameron's Avatar: The Way of Water has officially overtaken Spider-Man: No Way Home to become the No. 6 biggest film ever worldwide, as was presaged over the past few days (see below). It now is expected to hit the $2B global benchmark this coming weekend.
On Tuesday, the epic sci-fi adventure added another $12M globally, bringing its worldwide cume through yesterday to $1.928B and, in so doing, topping Spider-Man: No Way Home's $1.921B (it bears noting that No Way Home did not release in China during a long period in which films featuring a Marvel character were seemingly unofficially banned; that ban appears to be lifting, as we reported on Tuesday).
Regardless, when Avatar: The Way of Water crosses $2B, likely on Saturday or Sunday, it will become the sixth movie ever to the milestone — as well as Cameron's third alongside Titanic and the original Avatar.
Overseas, WoW currently sits as the No. 5 all-time biggest title, behind Avengers: Infinity War, and is likely to move up a spot on that chart with the coming FSS session.
The international box office cume to date is $1.354B. The 20th Century Studios/Disney sequel picked up a further $9.2M offshore on Tuesday.
The top overseas markets for the sequel through Tuesday are China ($217.4M), France ($123.3M), Germany $108.5M), Korea ($93.6M), the UK ($77.7M), India ($56.9M), Australia ($51.9M), Mexico ($49.4M), Spain ($43.8M) and Italy ($43.7M).
Including numbers from today (and not included in the figures above), China is at an estimated $225M through Wednesday (with Maoyan predicting a $237M final as the movie heads into extended play but will buck up against Lunar New Year titles from January 22). Korea is at $97.6M.
Source: deadline