At Least 50 Percent of HCC Histologic Students Employed Before They Graduate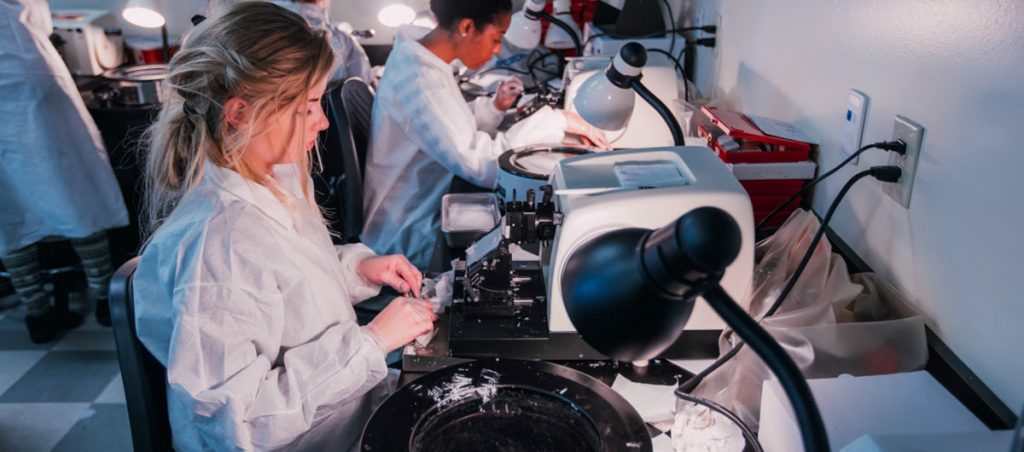 HOUSTON (August 30, 2019) –Houston Community College (HCC) is helping to cure cancer and the local job market with its Histologic Technician Program. Instructor Dr. Min He of HCC's Coleman College for Health Sciences says that half of her students have found jobs before they graduate from the program that plays a crucial role in the diagnosis of cancer.

"There's a very high demand for these jobs, even at the entry level position, particularly in the Houston area," said Dr. He, stating that the college is located in the Texas Medical Center, the world's largest medical center.
Histologic Technicians (HT), also known as Histotechs, are critical in the diagnosis, treatment, and management of patients, especially patients with cancer. "Histotechs use instruments to process, embed, and section tissue onto slides, using chemicals and dyes to perform tests to demonstrate pathological changes," said Dr. He.
Within just five semesters, a graduate can earn an Associate of Applied Science Degree and is eligible to be certified by the American Society of the Clinical Pathologists (ASCP) as a Histologic Technician.
Dr. He says that today's Histotechs are employed in diverse medical settings, ranging from hospitals, reference, research, forensic, or physician's office laboratories. Other employment opportunities include working in medical supply industries or as medical instrument technicians. Consequently, graduates must have good hand-eye coordination and manual dexterity.
"All of that pays off," said Dr. He, who adds that students can earn $20 to $25 per hour immediately after graduating, which she reminds could just be a couple of years after graduating from high school.
"They can also earn while they learn," said Dr. He. For example, since many of her students begin working within the medical center, while still studying at HCC, they are more likely to find jobs there.
She adds that, since M.D. Anderson is also one of the world's largest cancer centers, some of her students receive offers for full-time positions there before they graduate.
"Histological diagnosis is important in detecting cancer," Dr. He said. "M.D. Anderson hires a lot of our graduates."
For more information about these classes at Coleman College for Health Sciences, visit hccs.edu/HistologicTech