A crown all his own: LeBron James gets NBA's all-time scoring mark his way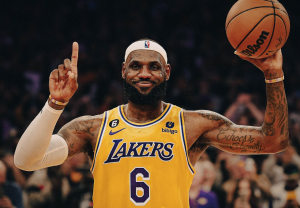 Whenever tremors are felt in this understandably skittish town, folks do not stand tall and raise their cell phones to take video and yell "shoot." Well, they might scream, and there was certainly that at precisely 8:57 p.m. on Tuesday, but not in horror.
No, actually: This was a seismic reaction of another sort on another kind of memorable night in LA history when Crypto.com Arena vibrated once LeBron James dribbled the ball, eyeballed the basket, and took aim at basketball immortality.
Curiously, a Holy Grail NBA record that stood for nearly four decades was erased rather ordinarily. Yes, in an arena that was packed to the roof, where the beautiful and famous people sashayed to their court-side seats, where the previous all-time scoring leader watched patiently as the clock ticked down to his ownership, the shot itself was the only routine part of this entire affair.
LeBron James sized up the defense as he has done countless times in his 20-year career, took a few dribbles, leaned back and floated a 15-footer that fell through.
"Just my patented fadeaway shot," he said.
Bucket, then bedlam.
As he jogged downcourt, arms spread, and then released an exhale, a combination of relief and revelry overwhelmed him. The game stopped, cameras clicked, and his eyes moistened. That was it. Journey complete. James was one point better than Kareem Abdul-Jabbar and added one more layer to a swollen legacy.
"It felt like I was sitting on top of the arena," James said.
He was certainly sitting on top of something, like 38,388 points and now counting, and the first 36 of his 38 points against the Oklahoma City Thunder were meticulously and loudly counted down. The noise inside the arena was elevated almost from the start and rose with every shot attempt, all the way until the one that truly counted.
LeBron has played 20 seasons in the NBA and won championships in Miami and Cleveland … and said the roar in this first-week-of-February game was unlike any he heard before. (He also won a title with the Lakers, but that was in the 2020 Orlando bubble, played before fans online and all of it was therefore muted).
"Not sure if I can hear that roar again," he said.
This was certainly worth celebrating. The game was called with 10.9 seconds left in the third quarter and folks paid some respect. Commissioner Adam Silver saluted James. Phil Knight, founder of Nike, applauded from court side, among other dignitaries. Magic Johnson came down from the luxury suite for a hug. James immediately called for his wife, three children and mother. He also had friends in attendance from Akron, Ohio. The combination of the love from the crowd and the comfort of those who mean the most to him was overwhelming.
"Everything stopped," he said. "Just to have people who have been with me from day one of the journey, that was special. My family. My friends. It was tremendous. Definitely had a moment right there."
The moment dwarfed the similar one back in 1984 when Abdul-Jabbar broke the scoring record held by Wilt Chamberlain. That took place in Las Vegas, where the Utah Jazz played a 11 home games that season. After sinking a sky hook over Mark Eaton, Abdul-Jabbar briefly bathed in a celebration and the game continued.
But here in a massive media and TV age, LeBron's "moment" was more like a graduation ceremony. All good, though, as everyone in attendance craved it and James took the mic and thanked them.
He also had kind words for Abdul-Jabbar, but it was no secret the two have a rather chilly relationship. Even their embrace Tuesday after the record-setter seemed awkward and forced. Still, the baton was passed and a new standard was set. And the official game basketball was quickly escorted off the floor by four security men and presumably taken to a safe place.
LeBron seemed determined to get the 36 points necessary on Tuesday, rather than require another game, Thursday against the Bucks, to achieve the feat. He wore a white headband perhaps for the first time this season, which was another hint: LeBron mainly wore a headband in previous seasons. His teammates said James wanted to get it over with and he joked how his friends from Akron had a red-eye flight Wednesday and didn't want to stay another night in the hotel.
He was aggressive right from the opening tip against OKC, taking the first shot of the game (it missed). His first successful shot was a 3-pointer. From there, the fans — a fair amount of whom probably didn't have tickets for Thursday's game — loudly encouraged him to go for it. And he was more than happy to do that.
"I definitely had that mindset," he said. "If I had the chance to get it, I would."
By halftime he had 20 points, and it was on. A layup with 66 seconds left in the third quarter brought him within a point. Typical for him, LeBron remained in the flow of the game and never seemed to force the issue, although his aggression was evident.
"I wasn't out there just gunning," he said. "I didn't press myself, didn't over-exert energy. I was super efficient. Once I get into a rhythm, I can get to any spot on the floor."
He had the record with a quarter to spare. The Lakers did lose the game and continued their underwhelming season — that's another topic for another day — but nobody in the building seemed to notice or care. It was all about LeBron, all night.
Also another topic for another day: did the erasure of Lakers legend Abdul-Jabbar as the No. 1 scorer make James, who played for two previous teams, a Lakers legend himself? And what about the elephant in the room — does being the all-time scorer and No. 4 in career assists, among other feats, make James the game's greatest player?
James has always tried to be somewhat respectful yet firm about that last issue, saying that, in his mind, he's the best to ever play the game. He gave a bit more breadth to that after the record, saying that if he were a general manager and building a team, he'd select himself.
"It's great barbershop talk," he said. "I know what I bring to the table. I know I play one through five (positions). I led the league in assists. I have been able to do what this game wanted me to do. I'm a historian of the game. It's just an honor to be in the conversation with all the greats to have played this game.
"I've managed to stay ahead of the curve and change my game when I needed to. I've been criticized for passing to teammates but I never wavered because I know I play the right way."
Still, the scoring mark, he said, never entered his mind when he broke into the NBA as an 18-year-old in 2003.
"I didn't set this as a goal, so that's probably why it's so surreal and so weird to me," James said. "I never talked about being the all-time scorer in NBA history until my numbers started getting closer and closer (to Kareem's record), and I was like, 'Oh wow, this is crazy. This is weird, but I guess I'm doing it.'"
Before the game, LeBron playfully practiced a hook shot. Maybe in the perfect situation — game on the line, Lakers needing a basket and a hook shot wins at the buzzer — that would tie a beautiful bow on a massive moment.
Instead, James stuck with his shot, done his way, and it was more than good enough to continue what has been a masterful NBA career so far. And he isn't done yet.
"I never wanted to emulate anybody else," said the league's new all-time career scoring leader.
And why should he? On a night made specifically for him, LeBron James showed once again how he's one of a kind.
Source: nba