37-acre Bastrop County wildfire 95% contained
The 37-acre wildfire in Bastrop County is now 95% contained, according to the Texas A&M Forest Service.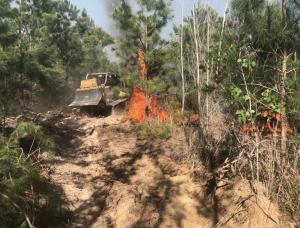 The Bastrop County Office of Emergency Management reported that the fire is burning in the vicinity of Cassel Way, Kelley Road and 1441. The fire was originally reported as 100 acres but crews have since updated that measurement.
All of Cassel Way and west of Kelley Way to Highway 21 were evacuated on Saturday evening. As of 10:36 p.m. Saturday, evacuations were lifted for the area, and power was restored.
As of 7:55 p.m. Saturday, the fire had moved south from its starting point due to a north wind. As of around 10:30 p.m., the fire was 50% contained.
Around 11:40 a.m. Sunday, the fire remained 50% contained. The Texas A&M Forest Service, which is assisting with the response, also updated the estimated acreage of the fire from 100 acres to 50 acres due to "more accurate mapping during daylight."
The forest service said crews were securing the east flank of the fire. No structures have been reported as lost.
At around 8 p.m. Sunday, the forest service said the fire was 95% contained. Crews are mitigating issues and will continue to monitor and patrol the fire throughout the afternoon.
STAR Flight crews assisted to knock down the head of the fire Saturday night, but darkness forced them to leave the scene.
Earlier on Saturday evening, there were 15 structures directly threatened by the fire, with 24 evacuated, Bastrop County Emergency Services District No. 2 said. There were 50 firefighters on the scene with 31 fire trucks.
Bluebonnet Electric said crews assisted firefighters and emergency crews by taking 71 meters out of power in the area. Power has since been restored.
Source: www.kvue.com