3 injured, including brothers ages 1 and 6, in shooting in SE Houston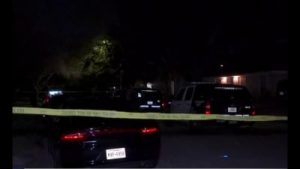 Two children and a man were injured during a shooting in southeast Houston Monday evening.
Houston police responded to reports of a shooting in the 5900 block of Selinsky Road around 7 p.m.
Police said three people were shot, one adult man and two siblings – a 1-year-old boy and a 6-year-old boy. The 1-year-old was shot in the arm and the 6-year-old was shot in the stomach. The man was shot in the hand at a separate location that police described as being "chaotic."
The two children were transported to Texas Children's Hospital in stable condition.
"We are very heartbroken, very saddened that these incidents have to happen, especially to children, innocent children," said HPD Asst. Chief Patricia Cantu. "Our prayers are with the family, the children, that they recover without any other further injury, any difficulty."
Police said several people have been questioned and one person has been detained. No arrests have been made in this incident so far.
Investigators are still working to determine what led up to the shooting.
Source: click2houston