2 deputies shot in Katy neighborhood, suspect dead, authorities say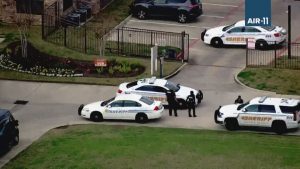 The suspected shooter was pronounced dead at the scene, according to HCSO's watch command.
Harris County Sheriff Ed Gonzalez says the shooting happened in the 6600 block of Amberfield Lane.
Deputies were called to the scene around 8 p.m. when someone inside the residence reported a man firing a weapon, Gonzalez says. Officials said the suspected shooter and the 911 caller were related.
Authorities described the situation as an "ambush" saying when deputies arrived, the 43-year-old suspect pointed his weapon at law enforcement and opened fire.
Deputies exchanged gunfire, ultimately shooting the suspect who died at the scene.
During the exchange of gunfire, the two deputies were injured. Investigators said the deputies are 27 and 28 years old.
Gonzalez said the deputies did not appear to have life-threatening wounds. One was shot in the leg and one had a graze to his ear.
Deputies also said that the suspect was out on a personal recognizance bond for aggravated assault of a family member from a case from 2020.
Source: click2houston