19 arrested in traffic crackdown in Harris County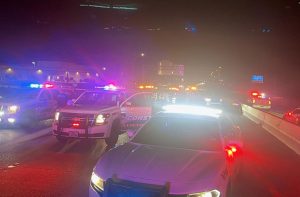 Nearly 20 people were arrested and charged in a multi-agency traffic initiative that was launched to keep Harris County streets safer.
Illegal street racing, reckless driving and evading on the public roadways were among the charges that were handed out after nearly 20 people were arrested in a Harris County traffic initiative, according to the Precinct 4 Constable's Office.
"In response to the largest street racing event all year, TX2K deputies with Constable Mark Herman's Office participated in a multi-agency initiative with the mission to provide a safe atmosphere for motorists and promote traffic safety within the Precinct 4 boundaries," Pct. 4 said in a release.
The charges (all according to Pct. 4):
Robert Marsh was arrested in the 1400 block of the North Freeway for evading arrest in a motor vehicle and endangering a child after leading constable deputies on a vehicle pursuit at more than 100 miles per hour with three children in the vehicle. Mario Alvarez was also arrested for felony evading in a motor vehicle.
John Pineda, Colin Garrity, Nicholas Sisco, Nikoll Kolgjeraj and Devraj Bhatt were all arrested for racing on a highway.
Saxon Spencer, Corbin Whittington, Byron Davis, Sidney Edward and Xavier Delgado were all arrested for reckless driving.
Omari Aceneaux was arrested for interference with the duties of a public servant.
Lance Ryans was arrested for tampering with a government record and resisting arrest.
Kameron Rose was arrested for felony possession of marijuana.
Xzaria Scott, Alec Sosa-Deguzman, Dwayne Dibble and Joynique Phillips were all arrested for open warrants.
All of the suspects were booked into the Harris County Jail.
Source: khou