YouTube Originals presenta BRAVAS, una nueva serie de la productora ejecutiva Natti Natasha
BRAVAS, con elenco liderado por mujeres se estrena el 7 de octubre en el canal de YouTube de Natti Natasha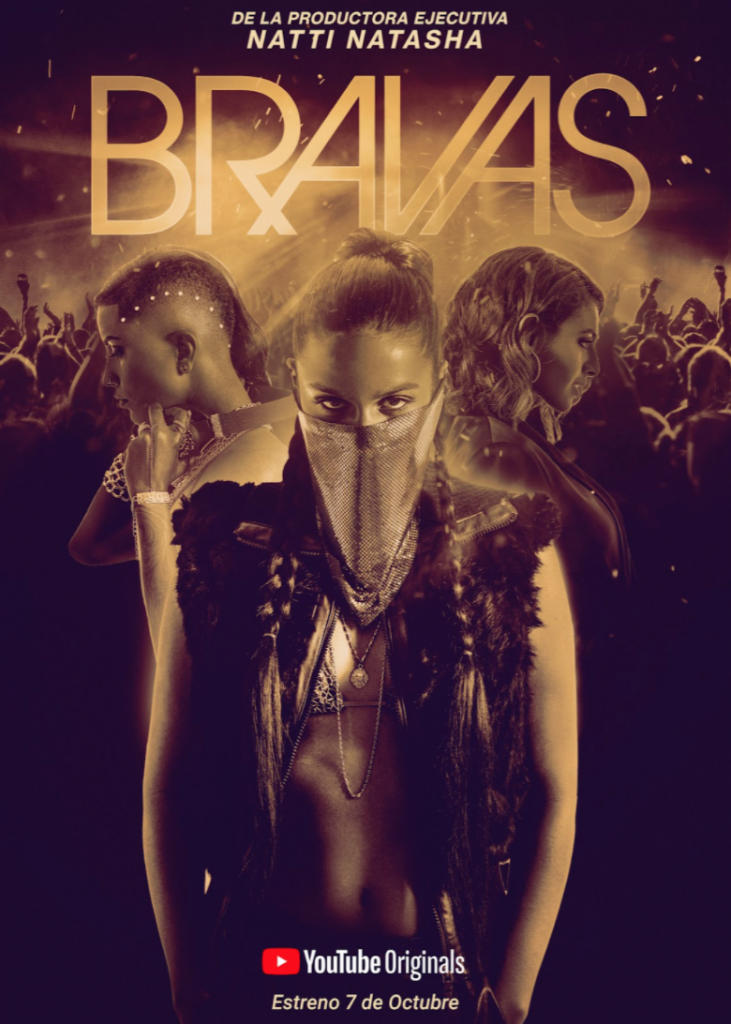 Ciudad de México, 1 de octubre de 2020 – BRAVAS, la nueva serie de YouTube Originals, sigue a tres amigas, Mila (Audri Nix), Roja (Nohemy Aguilar) y Ashley (Amanda Antonella), que buscan encontrar su lugar en el mundo. Aprenderán que para superar su pasado y abrirse paso al futuro deberán unir sus voces, cueste lo que cueste. La serie de ocho episodios fue producida por Cinema Giants, el director y productor Jessy Terrero y Natti Natasha como productora ejecutiva. La premiere de BRAVAS será el próximo 7 de octubre a las 3:00 p.m. PST, en el canal de YouTube de Natti Natasha.
La música latina se ha convertido en uno de los géneros musicales más consumidos en el mundo, pero históricamente ha sido un género e industria dominada por hombres. Desde sus humildes comienzos en la isla de Puerto Rico, artistas masculinos se han convertido en íconos globales de la música en los últimos años. BRAVAS toma las calles vibrantes de Puerto Rico y narra la experiencia de jóvenes artistas que intentan emerger de esos mismos modestos comienzos, pero añadiendo la presión social y en las sombras de los hombres que encabezan las listas del género. BRAVAS, cuenta con la participación de leyendas de la música latina acompañadas de nuevas estrellas como Natti Natasha, Audri Nix, Wisin, Lyanno, Jon Z y Darkiel, además de Daniel El Travieso, uno de los creadores más grandes de YouTube en Puerto Rico. BRAVAS, también cuenta con un soundtrack original exclusivo.
Una tragedia familiar obliga a Mila a dejar a su familia atrás en busca de una nueva vida, encontrando en San Juan un hogar dentro de la música urbana y en el Club BRAVAS. Con la ayuda de los invitados especiales de la serie, la protagonista encuentra su propio camino y escribe un éxito inspirado en una decepción amorosa. A partir de ahí, Mila y sus amigas más cercanas, DJ Roja y Ashley, forman un grupo llamado La Milagrosa, entregándose de lleno a su pasión. A raíz de la desaparición de su amiga y compañera de trabajo Ginoel, su música cobra verdadero sentido e importancia como voz de alerta ante la urgente violencia contra las mujeres. Una prometedora carrera acaba de comenzar para La Milagrosa.
La serie de ocho episodios fue producida por Cinema Giants, director y productor ejecutivo Jessy Terrero y Natti Natasha como productora ejecutiva, en colaboración con la escritora y productora Kisha Burgos, y el productor Ari Maniel Cruz. Con más de 20 años como fuerza creativa en la música y el cine, Terrero ha dado vida visualmente a historias poderosas. Su estudio Cinema Giants también produjo el documental de YouTube Originals, MALUMA: Lo Que Era, Lo Que Soy, Lo Que Seré, sobre la estrella de pop latino, Maluma, y cuenta con más de 12 millones de reproducciones.
BRAVAS se une la lista de YouTube Originals, enfocados en la música que incluye éxitos recientes como "Justin Bieber: Seasons", "Coachella: 20 years in the desert", "TWICE: Seize the Light", "Coldplay: Every Day Life – Live in Jordan", y próximos proyectos que incluyen una serie documental de cuatro episodios con la superestrella Demi Lovato para el año que viene. Aquí puedes ver el trailer de la serie, y aquí podrás encontrar fotos para ilustrar tu nota.