Winter storm takes aim at Washington, Philadelphia, New York and Boston
More than 60 million Americans are under winter storm advisories, watches, and warnings, from northern Georgia to New England, as a powerful nor'easter takes aim at the East Coast.
The storm is forecast to strike most of the eastern coast Wednesday into Thursday, and several feet of snow and heavy ice could cause power outages throughout the region.
Boston and New York could see as much as a foot of snow, while parts of the tri-state area could see up to 16 inches.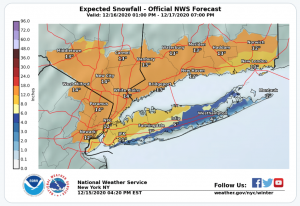 "Confidence is high that this winter storm will result in significant impacts, including travel disruptions and power outages across much of the mid-Atlantic and southern New England," the Weather Prediction Center said.
Pennsylvania Gov. Tom Wolf signed a disaster emergency proclamation as the state prepares for the first big storm of the winter. In New York, Mayor Bill de Blasio warned that residents need to prepared for what could be the biggest storm in several years.
Wind gusts as strong as 50 mph could also hit the coast of New England, according to the National Weather Service in Boston.
Storm trajectory
The storm system is moving out of the Rockies through Tuesday, bringing snow into the southern Plains before meeting cooler air farther east.
Freezing rain will fall along Interstate 80 and in the mountains of Virginia, with ice accumulation of more than a quarter of an inch possible in Roanoke and Charlottesville, and west to Beckley, West Virginia.
A mixture of precipitation will stretch from North Carolina to Pennsylvania, with heavy snow throughout the tri-state area and New England maps from the Weather Prediction Center show.
Lighter snow accumulations from Indiana to New Hampshire are expected by Wednesday, the center said.
Blustery wind conditions will also be a concern, with some areas, especially along the coast, coming close to blizzard conditions. Sustained winds of 25 to 35 mph are possible, with gusts as high as 45 mph at times.