Which States Will Launch Online Sports Betting By Next Year?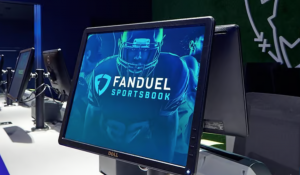 May 14 marks the five-year anniversary of PASPA being overturned by the Supreme Court. The High Court's ruling in the "Murphy vs. NCAA" case cleared the way for legalized sports betting nationwide.
It has expanded at a dizzying pace and now includes some enormous markets. For instance, Ohio launched sports betting on January 1, while Massachusetts started betting at three casinos on January 31 (mobile betting kicked off on March 10 with six sportsbooks). Bay State bettors are enjoying the NBA playoffs, as well as MLB betting on the Boston Red Sox.
The launch of sports betting in Ohio and Massachusetts capped a whirlwind 18 months in the legal online sports betting world.
In addition to those two states, New York, Louisiana, Kansas, Ontario and Maryland have launched retail and/or online betting since the start of 2022.
According to the American Gaming Association, sports betting is now legal and operational in 33 states, plus Washington D.C. and Puerto Rico* (retail only, mobile coming soon). Which states will be next to launch legal betting apps? Several states are in the process of trying to legalize sports betting, or have already given it the green light but are waiting to implement sports betting.
Odds to Launch Online Sports Betting In Next 12 Months
*Some states have legalized sports betting, but have yet to implement it and some have implemented it in-person only.
Odds by Bookies.com Senior Handicapper Adam Thompson (industry insider Sean Ostrow contributed to odds)
Bills to enact sports wagering in North Carolina, Missouri, Minnesota, Texas and Kentucky (among others) are being considered this spring. The latest state to legalize was Kentucky, which could likely launch by the end of the calendar year or in early 2024.
Prior to that, a legislative push to legalize sports betting in Georgia fizzled out. The Peach State would have been one of the larger markets in the nation (nearly 11 million residents), but 2023 marked the third straight year that Georgia sports betting was derailed.
The political landscape in each state varies greatly and predicting what politicians will do is sort of a fool's errand, but that's our business so we'd be foolish not to take a crack at it.
We should note that it typically takes about six months to a year for a state to launch legal sports betting once it's legalized, given the regulatory hangups. With that in mind, here is a look at our hypothetical odds on which states will launch legal online sports betting* in the next calendar year?
States Closest to Launching Sports Betting
Kentucky:  -5000
The push for betting in Kentucky has accelerated since Ohio went online in January. As a result, Kentucky joined the list of states that have legalized sports betting in late March, beating the buzzer on the last day of the legislative session. House Bill 551 passed the Senate by a vote of 25-12 and was quickly signed into law by Gov. Andy Beshear. Kentucky sports betting could launch towards the end of 2023, but 2024 is more likely.
Vermont: -5000
Vermont was the last of the six New England states to legalize sports betting. It is surrounded by states (New York, New Hampshire, and Massachusetts) that allow online betting. Vermont will be among the smallest legal betting jurisdictions in the U.S. Just this week, a digital-only sports betting bill passed the House and Senate. It will be signed by Gov. Phil Scott. The bill states sports betting would launch by January 2024.
Maine: -800
Sports betting became the law of the land in Maine on May 2, 2022. But the process to get it operational has been a slog. Still, officials have been saying that a Maine sports betting launch is likely to happen in 2024. Betting will be exclusive to the state's Native American tribes once it begins. 
Maine is the only state in the U.S. that is bordered by just one other state. (Alaska and Hawaii have none). Maine's lone contiguous neighbor, New Hampshire, has had legal online betting since 2019. Maine was part of Massachusetts until 1820. Massachusetts became the fourth state in New England to launch mobile sports betting in March.
North Carolina: -500
The House easily passed its version of a sports betting bill on March 29 and sent it to the state Senate. That's huge news after last year's bill failed by one vote in the House. The hard part is done now, since the Senate is the chamber that passed a sports betting bill in 2022.
Right now, North Carolina sports betting is limited to in-person wagering at three tribal casinos. If the current bill becomes law, 10-12 online skins would be issued and the state would collect a 14% tax on net revenues. The go-live date written into the NC sports betting bill is Jan. 8.
North Carolina has one of the longest sessions in the nation (it technically ends August 31, but legislators could be called back for a special session) so this is going to take a bit of time to resolve. Sean Ostrow, a lobbyist for the Sports Betting Alliance is "pretty confident" a bill will pass out of the Senate before it adjourns.
Minnesota: +120
A bill to allow sports betting in Minnesota continues to move through the state legislature. Lawmakers will be in session until May 22 so expect the Minnesota sports betting proposal to evolve. The current iteration would give the state's 11 Native American tribes a monopoly on the action. The state's pro teams and parimutuel facilities are currently excluded.
A similar bill stalled in 2022 after it passed the House but died after tribes opposed the addition of horse tracks to the bill. This remains an issue, but there was recently a revised bill submitted that does more to placate the horse tracks. That development has breathed new life into the hopes for Minnesota sports betting in 2024, but the general consensus is there's not enough urgency on behalf of the tribes to get it done this session. 
Texas: +150
Sports betting is making another stand in Texas this spring. A pair of bills to legalize Texas betting apps in the Lone Star State could be headed to the House floor soon. However, the bills need to clear the House and Senate by May 29 (by a two-thirds vote) to be put on the November ballot.
Legalizing sports betting in Texas requires a constitutional amendment, which is why a two-thirds majority vote and a ballot vote in November is needed. There is a lot of support here, though not from where it matters, unfortunately, which is why the odds aren't great. Lt. Gov. Dan Patrick says it does not have the votes in his chamber and won't bring it to the floor until it does.
Texas legislators meet every two years, so Texas sports betting won't be up for discussion again until 2025 if it fails this year. A similar effort to legalize sports betting in Texas fell short in 2021. If Texas does allow sports betting, it would become the largest state in the nation to do so with 29.53 million people. Currently, New York is the most populous sports betting market in the U.S. with 19.84 million.
Missouri: +190
The Show Me State has a pair of MLB franchises and an NFL team. But all three play within minutes of states (Kansas and Illinois) that have betting. The House has passed HB 566 bill and now it heads to the Senate, where a similar bill failed last year.
A push to tie sports betting to illegal slot machines sunk the bill last year and could well do the same this time. The legislative session ends on May 12. Voters may have their say in a state-wide referendum, but that won't happen until 2024 and if it passed, a launch wouldn't happen until 2025.
Florida: +650
The gaming compact between the Seminole Tribe and the State of Florida that legalized mobile and online sports betting in the Sunshine State remains tied up in a federal appeals court. A lower federal court judge threw out the agreement because she ruled it violated both Florida law and caused undue harm to casino operators.
That decision has been heard by the U.S. Court of Appeals in Washington but no ruling has been issued. If the compact is reinstated, retail and mobile betting under the Seminole Tribe's Hard Rock Casino brand would resume. If the compact is not reinstated, legislators, Gov. Ron DeSantis, and the Tribe will have to begin work on a new compact. 
Oklahoma: +850
Gov. Kevin Stitt wanted to legalize sports betting during the 2023 session, but that didn't come to fruition (the session ended April 13). Oklahoma's Native American tribes hold exclusive rights to gambling in the Sooner State. Oklahoma is basically in the same boat as Florida – and it's a dingy.
California: +5000
The Golden State holds the Golden Ticket for the growth of sports betting in the United States. California is the nation's most-populous state. But don't expect sports betting apps to be available there any time soon.
A much-publicized, very expensive ballot initiative failed miserably at the polls last November. Mobile betting in California remains a far-off dream for bettors and books alike. Given the amount of money at stake for both the state and the books themselves, the push will continue.