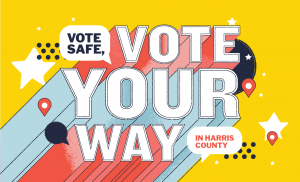 Voting Procedures During
the Coronavirus Pandemic
The Harris County Clerk's Office is focused on creating a voting experience that gives everyone a chance to have their voice heard. During the coronavirus pandemic, your health and safety is a top priority. Here are some of the ways the voting experience has shifted because of the pandemic:
S.A.F.E. voting:
  Learn how we're helping ensure you can exercise your right to vote without putting your health at risk – learn more at 
HarrisVotes.com/SAFE
.
In-person voting—health: Want to vote in person? We are serious about your health. From increased voting center sanitization, PPE for election workers and voters, and floor plan optimization for social distancing—we are going above and beyond
In-person voting—find shorter wait times: Don't stand in a long line to vote this year, use our Poll Finder Map and Wait Time Tool to make it easier to vote conveniently and efficiently while keeping your (social) distance.
Drive-thru voting:
 This year, you can mask up and vote without ever leaving your vehicle at 10 locations throughout Harris County. Find a location near you at 
HarrisVotes.com
.
In-person mail ballot delivery: To address any concerns over postal delivery, we are offering in-person vote by mail ballot delivery at the Harris County Clerk's Annex location at NRG Stadium during Early Voting hours through Election Day, November 3, 2020, at 7:00 p.m. You will need to go inside and show photo ID to submit your completed ballot.