Verlander Allows 2 Hits over 7 Dominant Innings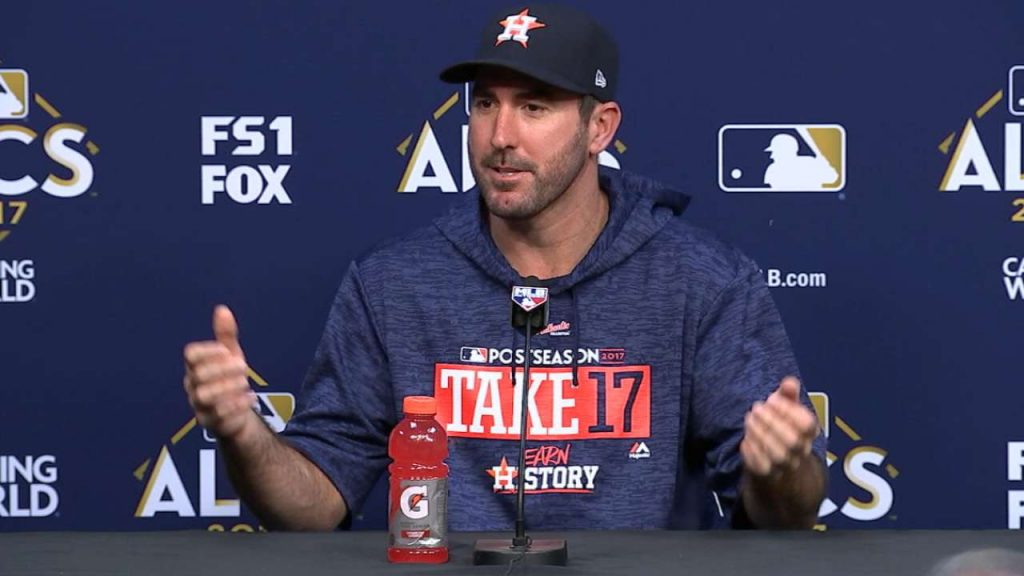 Earlier this month, Astros pitcher Justin Verlander had a sitdown conversation with Hall of Fame pitcher Nolan Ryan — his idol and an executive assistant in Houston's front office — to discuss a variety of topics that included pitching styles, how to prepare between starts and longevity in the game.
Ryan, who pitched 27 seasons and struck out more batters than any pitcher in Major League history, told Verlander how he developed a changeup later in his career, despite having two dominant pitches in his 100-mph fastball and hard-bending curveball.
Verlander took the conversation to heart and relied heavily on his secondary pitches, including his work-in-progress changeup, to dominate on Tuesday night at Progressive Field. He struck out 13 while allowing two hits and no walks in seven innings to send the streaking Astros to their 10th win in their past 12 games, 2-0, over the Indians.
"It was pretty cool to sit there and have a conversation like that with my idol," Verlander said. "Pretty special. He had some really good insights on some stuff that I hadn't really thought of, and I took it out there and pretty much right away started having some better results."
Verlander (14-4) improved to 4-0 with a 1.44 ERA in his last four starts while lowering his Major League-best WHIP to 0.81. He retired 21 of the 23 batters he faced, allowing leadoff singles to Roberto Perez in the third inning and Greg Allen in the sixth. Only one batter reached second base against Verlander, who posted his third consecutive double-digit strikeout game and is 98 K's away from 3,000 in his career.
"He's really good, and he showcased it all tonight," Astros manager AJ Hinch said. "I don't know if it was his determination to pitch well in this ballpark or matching up with [Shane] Bieber, which is a really incredible matchup, or his creativity, his secondary stuff. This is probably the most secondary stuff he's thrown in his career in a game. He pitched to some areas that he got some punchouts, soft contact. They hit a couple of balls hard, but really he controlled the entire game from the beginning."
Verlander snapped a six-game winless start streak at Progressive Field, winning for the first time in Cleveland since June 21, 2014. He was 0-5 with a 6.88 ERA in his previous six starts on the road against the Indians.
"I exorcised some demons here today," Verlander said. "It hadn't been too great for me here in this ballpark. I didn't pitch here last year, but the years before that with the Tigers, [I did]. So it was nice to come in and be able to execute, especially in a tight ballgame and against a great pitcher in Bieber and keep those runs off the board and allow our guys to go out and scratch across a couple, and Will [Harris] and [Roberto] Osuna came in and did the job in the eighth and ninth. It's hard to script it much better than that."
Veteran catcher Robinson Chirinos, who's caught all 23 of Verlander's starts this year, found himself hitting ninth Tuesday when the Astros trotted out a deep, dangerous and healthy lineup that for the first time included rookie Yordan Alvarez and former All-Stars George Springer, Jose Altuve, Michael Brantley, Alex Bregman and Carlos Correa, as well as potential American League Player of the Month for July, Yuli Gurriel.
Despite all that star power, it was Chirinos who broke the ice with a fifth-inning homer off Bieber. Brantley, returning to play in Cleveland for the first time in the regular season since signing with Houston, added an RBI single later in the inning for a 2-0 lead. The homer was the first for Chirinos since June 24 (89 at-bats).
"He gets lost a little bit in this dynamic lineup we have," Verlander said. "For God sakes, the guy's hitting ninth. He's a special player and I think he should get some more credit."
Chirinos, who followed a 7-for-53 funk by hitting .375 in his past 11 games, said he's been working on his mechanics and staying behind the ball more to allow him to drive the baseball where it's pitched.
"Me hitting ninth, I contributed to the win tonight," Chirinos said. "There's no break for the guys on the other side facing our lineup."
Normally, Altuve hitting .300 at the end of July wouldn't be a reason for him to celebrate. A three-time batting champion, Altuve came off the injured list June 19 after missing 35 games and was hitting just .243. In the 33 games since, he's hitting .357, including going 3-for-4 on Tuesday to reach .300 for the first time since the opening series of the season.
"It means a lot, especially on this team," Altuve said. "I've been working really hard every day to get to this point. I just want to be part of this process. I know we have a great opportunity and we have to go out there and make it happen. I want to be part of it."
"The number's big for him and everybody's used to it, but Jose Altuve is a really good player," Hinch said. "That's not really breaking news around July 31."