US faces tougher COVID restrictions as hospitalizations rise in 41 states and hit a record 96,039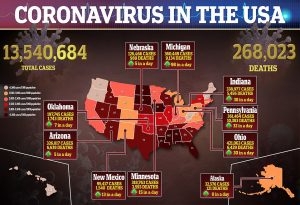 The number of Americans in hospital hit a grim new high on Monday as 96,039 people were confirmed to be admitted – an almost 12 per cent increase on the week before.
The total number of coronavirus cases in the United States for November surpassed four million on Saturday – more than double the 1.9 million record for October.
The U.S. now has 13.5 million confirmed cases, and 268,000 deaths.
On Monday Scott Atlas, Donald Trump's favorite member of the White House coronavirus task force – who angered many with his skepticism over lockdowns and face masks – resigned.
Unlike in the spring, when the epicenter was New York and the heartlands were relatively spared, now the pandemic is nationwide. Cases are rising in 41 states: North and South Dakota, Minnesota, Wyoming and Nebraska were among the hardest-hit.
And public health experts are warning that Americans who ignored advice and traveled over Thanksgiving will now make the situation worse: Dr Anthony Fauci described it as 'a surge, superimposed on a surge'.