US Actors' Union Agrees Contract Extension Until 12 July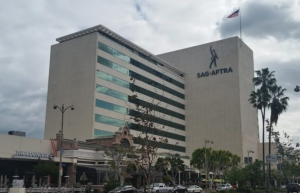 On 30 June SAG-AFTRA, the US actors' union, and the Alliance of Motion Picture and Television Producers (AMPTP) agreed a contract extension until 12 July so that negotiations on a new deal can continue. The current contract was due to expire at 11.59pm Pacific Time, risking a strike if a deal or extension was not agreed.
SAG-AFTRA members voted overwhelmingly to authorise a strike on 5 June with 97.91% in favour. This gave them additional leverage going into negotiations with the AMPTP, on top of the leverage from the WGA strike which entered its third month on 2 July.
Since then over a thousand SAG-AFTRA members have signed a "prepared to strike" letter to union leaders re-emphasising their willingness to strike. The letter has been signed by a number of A-List actors including Charlize Theron, Pedro Pascal, and Jamie Lee Curtis. This came shortly after a YouTube video on 23 June from SAG-AFTRA President Fran Drescher and National Executive Director Duncan Crabtree-Ireland saying that they are "going to achieve a seminal deal."
Key issues in the negotiation of a new contract are the use of AI in film and TV productions, "out of control" self-tape demands, and increased compensation. One particular sticking point, according to Variety, is demands for higher residuals from streaming services. Currently streaming residuals are done on a predetermined formula which decreases as a film or TV show ages, resulting in much lower residuals than from traditional network TV. Both SAG-AFTRA and the WGA want to move to a viewership-based residuals model with bonuses for the most-watched shows.
There would be huge ramifications for Hollywood if actors do go on strike after 12 July including delays to every film and TV production not already shut down by the WGA strike. There would also be delays to major awards shows like the Emmys with a decision by the end of July on whether the show's September date is feasible. It would also be a huge boost to the WGA strike and show solidarity between the different Hollywood unions.
Source: www.indiependent.co.uk