University of Houston Downtown's 67th Commencement Ceremonies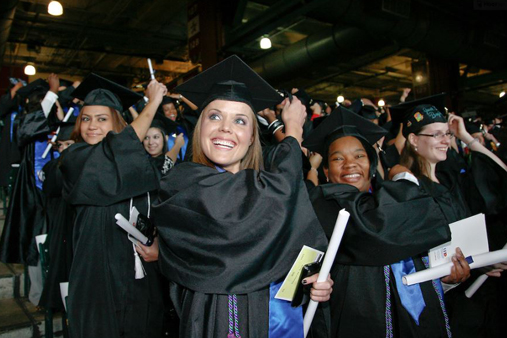 You probably know him as the "H-E-B Guy" in the large Texas-based grocery store chain's television commercials featuring Houston Texans stars Deshaun Watson and DeAndre Hopkins, the Houston Astros' José Altuve and other local notables.
That familiar face is Scott McClelland, president of H-E-B Food/Drug Stores, who will serve as the guest speaker for the University of Houston Downtown's 67th Commencement ceremonies on Dec. 14 at Minute Maid Park.
McClelland will address the graduates at the 10 a.m. ceremony for students receiving their degrees from University College, the College of Public Service and College of Humanities & Social Sciences and the 4 p.m. commencement for students from the Marilyn Davies College of Business and College of Sciences and Technology.
In addition, James Adams serve as the student speaker for the morning ceremony, while student Ryan Hashem will address fellow graduates at the late afternoon commencement. As leader of the $26 billion retailer, McClelland is active in the community, serving on numerous local boards, including the Greater Houston Partnership where he serves as the chairman of the Board of Directors.
In 2017, he co-founded the education-based, non-profit Good Reason that focuses on im – proving education for all students across Harris County from cradle to careers by eliminating achievement gaps. In addition, McClelland is a former board chair of the Houston Food Bank where he led its $56 million capital campaign to fund the construction of the largest food bank warehouse in the United States. He also spearheaded the Houston Super Bowl of Caring Food Drive, which is now the largest in the state and annually collects over 2 million pounds of food for the city's hungry.
McClelland received a bachelor's degree in Business Administration from the University of Southern California and is a graduate of Harvard's Advanced Management Program.
Student Speakers: James Adams and Ryan Hashem will lead the student message during the morning ceremony. His future plans after graduation are to use what he's learned in Interdisciplinary Studies and his minor in Sustainability to help develop innovative concepts to minimize the world's carbon footprint.
During his time at UHD, Adams was awarded two Sustainability Initiative and Community Service Learning and Engagement Grants that funded his research and development of a hydroponic system harvesting food, water and energy. "A lot of my academic and personal experiences have been centered around agriculture and renewable energy," Adams said. "I thrive when exposed to new experiences and challenges, and if there is a position at a firm that lets me analyze, research, and develop solutions with a multi-disciplinary team then that's where I would like for you to find me."
Hashem, who will receive his bachelor's in General Business, uses his natural leadership skills to add value to any organization he joins. He was named Honor Student of the Year in 2018-19 and received the Alpha Lambda Delta award, and Academic Excellence Award in 2017. He plans to earn his MBA after graduation with his sights set on starting his own business. "I have big plans to lead the world through innovation and creativity," Hashem said. "I want to change the world and inspire others to approach their problems in unique ways."