Universal Building New Theme Park For Families and Young Children In Frisco, Texas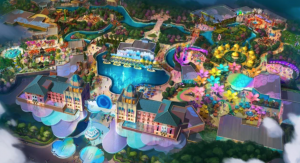 Universal Parks & Resorts announced today a theme park, situated in Texas, specifically designed to inspire fun for families with young children. The company promised "a lush green landscape and featuring
immersive themed lands" that celebrates "Universal's iconic brand…and brings to life its beloved characters and stories in ways that will wow even the youngest theme park goers."
The proposed park would be built in Frisco, Texas, which the company considers a gateway to a growing, regional market with broad appeal in the Southwest. Frisco is part of the Dallas-Fort Worth metro area and has a listed population of 225,000. For Super Nintendo World fans, Frisco is home to the National Videogame Museum, which features rare gaming consoles and arcade machines.
Universal Parks & Resorts selected the city of Frisco based on the city's growing population and ability to attract businesses to the area. The proposed location for the new concept is ideally situated east of the Dallas North Tollway and north of Panther Creek Parkway. The park will be designed to be more intimate and engaging for younger audiences and will be sized for a regional audience. It is expected to feature family-friendly attractions, interactive and playful shows, character meet and greets, unique merchandise
and fun food and beverage venues.
Part of 97 acres of land recently purchased by the company, the proposed park also has plans for an adjacent themed hotel and room for expansion. The entire area is intended to have a completely different look, feel, and scale than Universal's existing parks and will appeal to a new audience for the brand.
Below, you can see a video presentation on the project delivered today by Frisco Mayor Jeff Cheney.
"We are excited about the opportunity to partner with the city of Frisco and Mayor Cheney as we work to bring this innovative, new concept to life designed specifically for a younger generation of Universal fans," said Page Thompson, President, New Ventures, Universal Parks & Resorts. "We think North Texas is the perfect place to launch this unique park for families given its growing popularity within this part of the country."
Cheney added, "Frisco is one of the fastest growing cities in the U.S. and has been recognized as a great
place to plant professional roots and raise a family. This new Universal concept will continue to enhance our tax base, expand employment opportunities and bring even more fun to Frisco benefiting our residents, businesses, and visitors."