UHD Students' Artwork, Graphic Novels on View at Saint Arnold Restaurant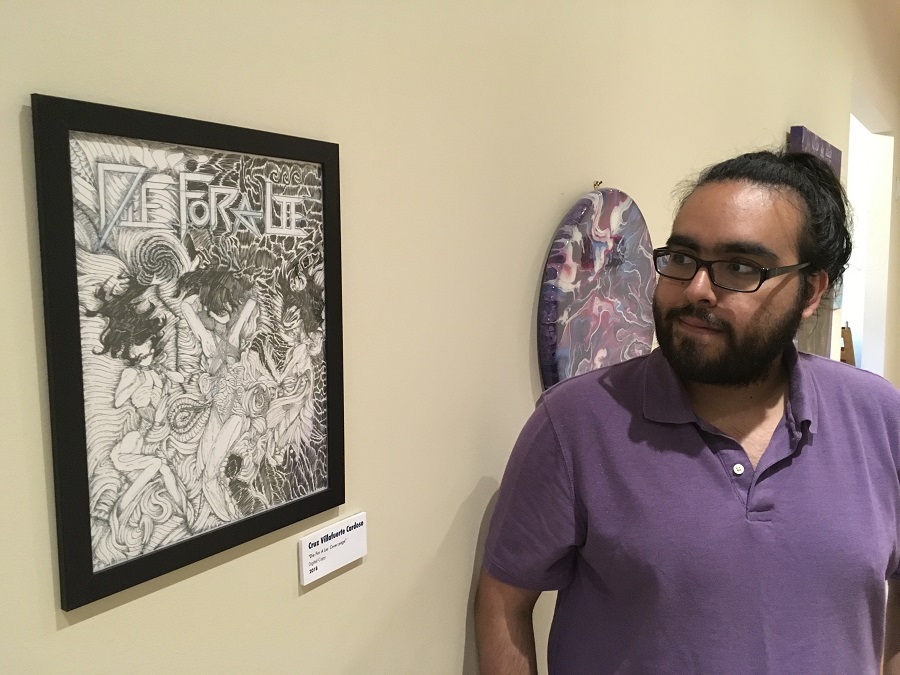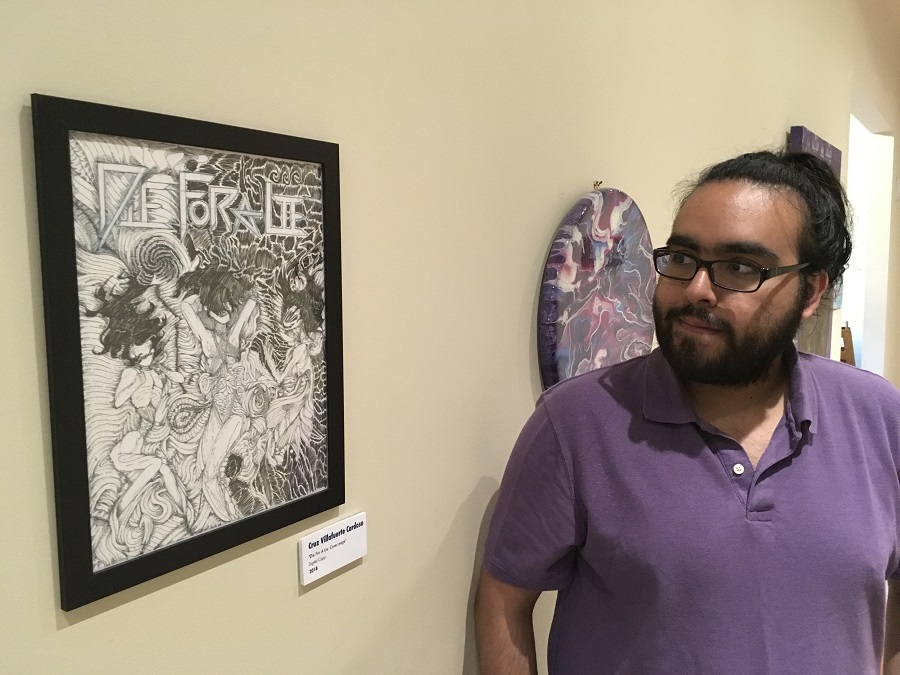 Last semester, University of Houston-Downtown fine arts students were assigned the task of creating graphic novels that expressed a social message. They began the process of composing illustrated tales addressing immigration, the environment, racism, health care and other issues.
Audiences in Houston can sample these and other student works that are on view at Saint Arnold Restaurant (2000 Lyons Ave.) through May. Graphic novel pages and artwork were created under the guidance of Fine Arts lecturer Beth Secor in the class "Creating a Graphic Novel."
Among the students in the class was Eliseo Villanueva, who started the graphic novel, "La Lucha," as his class project.
"La Lucha" (translated from Spanish – "The Fight" or "The Struggle") tells the story of Miguel Gutierrez, a son of immigrants and a Mixed Martial Arts fighter. Through flashbacks, the reader learns about his family's struggle to come to the United States and his challenges as a child.
Villanueva began writing and illustrating the "La Lucha" in class last semester. He continues to fine tune it under the tutelage of another UHD Fine Arts lecturer El Franco Lee. At Saint Arnold, Houstonians can view the cover of "La Lucha" depicting the title character's torso wearing a Rosary with fists clenched.
Another work on view is "Die with a Lie" by student Cruz Villafuerte Cardoso. The cover of this graphic novel (reflecting identity schisms within the story's main character in a Zen garden design) and a one-page scene are on display at Saint Arnold. According to the artist, the cover took more than 16 hours to complete and he is enthusiastic about sharing it with Houstonians.
"As an artist, I want my work to fall into the hands of people, who are willing to support it," Cardoso said. "Support of an artist's work isn't limited by royalties. By sharing artwork in social media, an artist can increase the likelihood of their images being seen."
His classmate Chelsea Markcray contributed the image "Breathe" to the exhibition at Saint Arnold. Although she created a graphic novel last semester, her contribution to this collection of student works is a drawing inspired by rapper Freckles the Writer. After discovering a photo of the artist on Instagram, Markcray saw an opportunity to experiment with the technique of pointillism (applying small, distinct dots of color in a pattern to form an image).
"Since creating this image, I've been motivated to use pointillism in most of my works to set myself apart from other artists," she said. "Creating this piece was tedious but eye opening because I found my niche by exploring this technique."
And like Cardoso, Markcray is deeply appreciative of the opportunity to present her work publicly.
"Having my work shown publicly has always been gratifying to me," she said. "Seeing people react to my piece brings me joy and astonishment because it's so unpredictable in how they interpret my art."
Such opportunities would not be possible without the mentorship of UHD's fine arts faculty, Villanueva said. Their guidance has been invaluable to him and other students as they hone their talents and discover new ways of creating and communicating through art.
"Although I grew up reading comics like 'Spider-Man' and 'Superman,' creating graphic novels was new to me," Villanueva said. "UHD helped me explore how to do that. I learned how comics are made, so I see them in a different light now. I understand how the images and words flow through a story, and how to frame a scene. I don't know if I would have learned to do this at another art school, so I am blessed for this experience at UHD."
In addition to Villanueva, Cardoso and Markcray, the following students have art on display at Saint Arnold Restaurant: Amanda Howard (graduated fall 2018), Matthew Simmons and William Boren.