U.S. restarts asylum appointments at Mexico border town despite extortion threat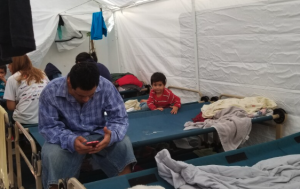 The U.S. government is restarting asylum appointments at a dangerous Mexican border town, according to Customs and Borders Protection (CBP), just days after U.S. officials suspended the scheduling of appointments there because drug cartels were extorting migrants.
The reversal comes after more than 1,500 asylum seekers flocked to Mexico's Nuevo Laredo in recent days, sleeping in a plaza near the international bridge, after word spread that the United States had begun to accept more migrants here without asylum appointments.
U.S. Customs and Border Protection (CBP) said its CBP One mobile app, which officials have urged migrants to use since COVID-era restrictions called Title 42 expired in May, will offer appointments again beginning Wednesday.
This comes less than two weeks after CBP had shut down the system for asylum appointments at Laredo – the Texas city opposite Nuevo Laredo – once U.S. officials learned criminals were forcing migrants to pay $500 each in order to reach the bridge to attend their appointments.
The flip-flopping policy change underscores the issues facing President Joe Biden's administration as it attempts to implement a sweeping new asylum system amid continuing security problems in Mexico.
While the U.S. government app to book asylum appointments aims to cut out dangerous human smugglers, events in Nuevo Laredo show it can still be exploited by cartels to extort migrants, posing serious questions about its viability.
Stephanie Leutert, an academic at the University of Texas at Austin and former adviser to the Biden administration on migration, warned an extortion scheme could return now appointments had reopened.
"In essence, (it is) returning exactly to the very same dynamics that led to the pause in CBP One appointments in the first place," she said.
Migrants began amassing in Nuevo Laredo over the weekend once they realized CBP officials were admitting about 50 asylum seekers a day through the international bridge without CBP One appointments.
Many came from a squalid encampment in the city of Matamoros, several hours away, where they had been unsuccessful in securing appointments.
Gerson Bravo, from Venezuela, explained how arriving migrants organized a waitlist using cardboard squares marked with numbers, or scrawling numbers on people's forearms.
He said their system was fairer than the app, which leaves some waiting months, while others land appointments quickly.
"They haven't been able to create any order with the app," he said.
On Wednesday, a Venezuelan migrant in Nuevo Laredo said he was worried he might be extorted now that Laredo was open again for CBP One appointments. "We are afraid," he said, asking his name not be published. "We came here thinking that we could have a better and faster system."
The sudden influx – compared to 250 migrants in the whole city two weeks earlier – prompted U.S. officials to view restarting CBP One as a better option.
"We are clear-eyed about the limits of our ability to control the security situation in any town outside of the United States," a senior CBP official told Reuters.
"Using CBP One is the best mechanism we have to reduce some of the vulnerabilities there," the official said, referring to Nuevo Laredo.
Many migrant advocates view CBP One as a positive tool to cut out smugglers, but worry the limited number of appointments puts migrants at risk as they wait in dangerous towns such as Nuevo Laredo.
When asked about the potential for continued extortion in Nuevo Laredo, the CBP official said migrants could apply for appointments elsewhere, and come to the city just for their appointments.
"That poses a much lower risk than all of these individuals crowding in the city as we see in Nuevo Laredo right now," the official said.
But reaching Nuevo Laredo can pose its own risks.
Venezuelan migrant Jose, who declined to give his full name due to security concerns, said he witnessed a car of migrants be kidnapped on a highway leading to Nuevo Laredo last week. Even so, he decided to undertake the journey himself the following day.
"We risked it because we were so desperate in Matamoros," he said, seated beneath white tents at a plaza near the border.
Three migrants told Reuters that men who appeared to be cartel members told them to stay orderly, but had not been extorting recently arrived migrants for money.
That could change, advocates say.
They estimated the extortion scheme had netted the local drug cartel tens of thousands of dollars in about a month.
One family from Michoacan state paid $13,000 in extortion fees, two family members told Reuters. Eleven receipts for money transfers from friends and relatives, seen by Reuters, show how the family hurried to raise funds ahead of their CBP One appointments in June.
"They had us locked up," said one family member. "People had to pay to not lose their appointment."