Turkish police detain 31 in Malatya over buildings destroyed by quakes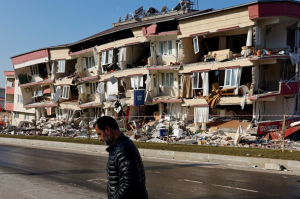 A warrant for the arrest of 31 people was issued in the central Turkish province of Malatya as part of the investigation into buildings destroyed by the deadly earthquakes, according to a Turkish media outlet on Monday.
The Malatya prosecutor's office has launched an investigation into the construction defects of the collapsed buildings, according to the TRT Haber broadcaster, adding that the number of people arrested in the case is expected to rise.
Parts of Turkey and Syria were hit on February 6 by a series of powerful earthquakes and aftershocks that killed over 33,000 people, most of them in Turkey, destroying thousands of homes.
On another note, the Turkish authorities have charged yesterday at least 14 people with negligence, manslaughter, and building code violations amid a popular demand for accountability in light of the devastating earthquake that hit the country earlier in the week.
Authorities have also begun arresting over 100 contractors, architects, and engineers who had a hand in the construction of buildings that collapsed as a result of the earthquake because of building violations.
Turkish Vice President Fuat Oktay said Saturday that the Police have so far identified 131 suspects who played a role in the construction of the structures that collapsed.
Oktay revealed that detention orders have already been issued for 113 of them, with more than ten being imprisoned already over charges of building code violations and reckless manslaughter, among other charges.
The Justice Ministry has started instructing local prosecutors to establish "Earthquake Crime Investigation Departments" in the 10 provinces where a state of emergency has been declared, another Turkish outlet said.
Moreover, according to Turkish media, some 50 people have been so far arrested for looting in the wake of the natural disaster amid popular outrage against the phenomenon, with bystanders having been filmed trying to beat a suspected looter as the police were attempting to detain him.