Travel: Trinidad and Tobago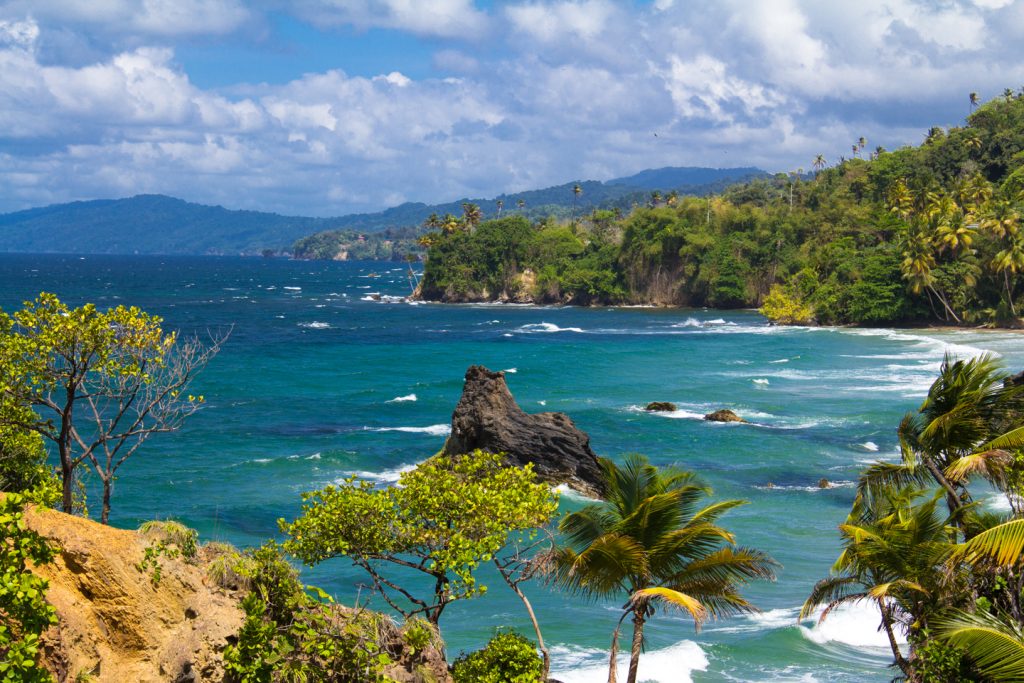 The twin-island nation of Trinidad and Tobago is a melting pot for the very best of the Caribbean. These two islands bring together the highlights of a tropical vacation — we're talking diving, hiking, waterfalls, nightlife — with an unmatched local culture. Unspoiled by mass tourism, this country is the perfect place to experience island life like a local and forget your worries for as long as you want.
WHEN TO GO
January – May
Sunny skies, cool weather and the chance to experience the biggest Carnival festival in the Caribbean? Sign us up! Visit Trinidad and Tobago in the early spring for the best weather to enjoy the islands' activities. The region's best Carnival festivities take place every February and March, and if you want non-stop sensory overload, this is the place to get it.
DISCOVERIES
Water You Looking At?
Though only 50 miles apart, Trinidad and Tobago have very different landscapes. Trinidad is a blend of bustling cities and marshy wetlands while Tobago is best known for stunning beaches and palm-lined coves.
Spend some time getting to know both landscapes on foot. One of the best activities is hiking from waterfall to waterfall. Both islands offer beautiful trails that end in refreshing views, from Argyle Falls on Tobago to Edith Falls on Trinidad. Another worthy trek is 3 Pools in Trinidad's Northern Range which features natural watering holes, waterfalls and nearby coastal villages.
Seas the Day
If you're after beaches, slip over to Tobago where you'll find dozens of secluded sandy stretches and quiet coastal towns. Sail to Cotton Bay, which is only accessible by boat and offers excellent snorkeling, or Englishman's Bay which will fulfill your deserted island dreams. Then head to the busier Pigeon Point where you can join a glass-bottom boat tour through the still turquoise waters of Nylon Pool. While Tobago is best known for its beaches, Trinidad also has its fair share of spots to take a dip, from the famous Maracas Beach to Grand Riviere Beach where leatherback turtles lay their eggs from March to August.
Buss a Lime
With a smaller tourism industry than many of its Caribbean neighbors, Trinidad and Tobago makes it much easier to experience local island life. During the day, wander around Queen's Park Savannah, viewing the historical mansions before exploring the exhibitions at the National Museum and Art Gallery. When night hits, roam Ariapita Avenue in Port of
Spain for an evening of "liming" or hanging out with locals. Hop from bars to clubs to food stalls selling late-night treats until the sun comes up.
Marshes and Tar
Get off the grid and explore the unique parts of the twin islands' landscapes. Trinidad especially has plenty of wetlands, like the Caroni Swamp and the Icacos Point Swamp, where bird-watching boat tours dominate. Take a trip to Pitch Lake, a 100-acre deposit of tar that produces much of the world's asphalt. Then hike through the limestone caverns of the Gasparee Cave System on Gaspar Grande off the coast of Trinidad.
WHAT TO EAT
Double the Trouble
You can't escape the islands without trying two signature dishes — Bake and Shark and doubles. You'll find Bake and Shark, a fast food dish of fried flatbread and shark meat, at many of the stalls along Maracas Bay, but Richard's is a local favorite.
Head to Curepe for the best doubles, a snack made with two fried flatbreads filled with curry channa. Experience all the local treats at Chaud, a Trinidad staple that blends home cooking with fine dining, or Upmarket, where local producers sell everything from fresh produce to gourmet goodies.
STAY HERE
Under the Canopy
Sure, you can find a few brand-name resorts scattered along the more popular beaches and in the busiest cities, but the best way to sleep in this nation is in its nature retreats and guesthouses. For a quiet respite, visit Castara Retreats on Tobago, where you can relax among the treetops. Rent Hummingbird Villa or enjoy the suites at the Magdalena Grand Beach Resort and Mt. Irvine Bay Resort.