Travel chaos looms for July 4th weekend: Hundreds of flights are canceled out of NYC due to storms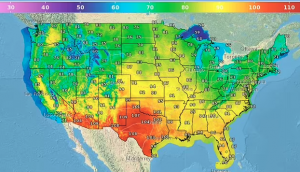 A dangerous heat wave affecting the US South is expected to worsen this week, bringing with it record-breaking temperatures that will top 100 degrees.
'Excessive' is the word the National Weather Service has used to describe the forecast for the next few days for states like Texas and Louisiana, which are already seeing temperatures that feel close to 120 degrees Fahrenheit.
Currently, more than 55million people from southern Arizona to the Florida coast, are feeling the effects of the record-breaking temperatures – which meteorologists now warn is set to stay through the Fourth of July weekend.
The heat has already resulted in the death of a Dallas postal worker – as well as a 31-year-old man and his stepson in an Austin park.
Still looming over Texas and parts of Mexico, the scorching 'heat dome' is now set to expand, experts said Tuesday – while being compounded by a series of storms ripping through the country further north, disrupting more than 1,700 flights in the process, and spawning several tornadoes.
The service warned Tuesday of the dome's progress this week. 'High temperatures Friday and Saturday across much of southern New Mexico and into portions of western, southern, and central Texas will range between 105 110 degrees.'
It added: 'Highs closer to the Gulf Coast will be in the upper 90s to low 100s, but dew points in the 70s will contribute to heat indices of 105-115, locally as high as 120 degrees.'
In a separate statement, the service's prediction warned that over the course of next week, the weather will bring 'more danger than a typical heat event, due to the longevity of near-record or record high nighttime lows and elevated heat index[es].
As previously mentioned, some 55million people – 16 percent of the contiguous United States – live in the areas expected be affected by the rapidly spreading dome.
Excessive heat warnings, the highest level of heat alerts, are currently in effect in cities like Dallas, New Orleans and Baton Rouge, which are expected to bear the brunt of the extreme weather
There, the heat index will approach 120 degrees, before worsening Wednesday as the system moves northward, officials said Tuesday.
As this happens, cities in the Central Plains and Missouri Valley – already victims to a series of twister-spawning storms – will also fall victim to the dangerous temperatures, with readings poised to pass the triple digits in places like Oklahoma.
Moreover, the heat mass is simultaneously expanding eastward, toward already hard-hit rural communities in Louisiana and Arkansas.
Temperatures in those states are set to surpass 100 degrees Fahrenheit Wednesday after nearing that marker Tuesday afternoon, extending into Mississippi and even Alabama – where temperature will feel as if they are 110 to 115 degrees, officials say.
Source: www.dailymail.co