TRAVEL: Belo Horizonte, Brazil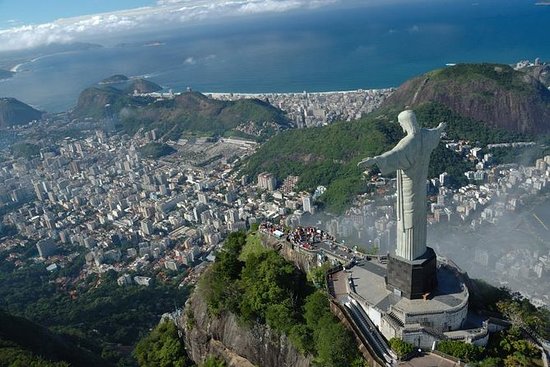 From the sunny shores of Rio de Janeiro to the bustling streets of São Paulo, Brazil is a traveler's playground. Enter Belo Horizonte, or Beagá as the locals call it.
Belo Horizonte offers a side of Brazil that only the locals know, from tranquil neighborhoods to buzzing bars, rolling mountains and its own version of Silicon Valley. Populated with a welcoming group of people called Mineiros, Belo Horizonte is one of the best travel destinations you haven't heard of yet.
Repeat After Me: "bay-ah-gah". The local term for Belo Horizonte comes from the Portuguese pronunciation of the city's abbreviation "BH".
WHEN TO GO
April-September
The Brazilian summer (December-March) is also its wet season, with heat and humidity rising to brutal levels. A visit during South America's dry winter will afford gorgeous weather for sightseeing, including breezy temperatures and low humidity. However, if you want to visit when the city is truly alive, book your trip during the Carnival celebrations in February-March.
DISCOVERIES
The Belo in Belo Horizonte
With touches of French and SpanCentrally located in the Minas Gerais principality and surrounded by the Espinhaço Mountains, Belo Horizonte has access to some gorgeous natural terrain. From expansive cave systems to rolling mountains to lush waterfalls, this region of Brazil certainly delivers. Head to Serra da Moeda for stunning hiking trails or to try your hand at paragliding. If breathtaking waterfalls are more your thing, check out Serra do Cipó National Park. Finally, if you have enough time, make sure to add a cave or two to your list.
Cave systems like Maquine and Rei do Mato around the outskirts of the city make for a thrilling afternoon adventure.
Form Follows Beauty
As one of Brazil's first planned modern cities, Belo Horizonte sees plenty of influence from the nation's most famous and active architect – Oscar Niemeyer.
As such, the city is packed with incredible artistic discoveries.
A can't-miss stop is Niemeyer's Pampulha Modern Ensemble, a collection of fantastic buildings centered around a picturesque lake. From the Casa do Baile (Dancing House) to the Francisco de Assis Church, this recent UNESCO heritage site holds plenty for the design lover to explore. Another cultural route to try is the Circuito Cultural Liberdade, which connects various museums and cultural buildings along wide shady boulevards in the historic center. Pass through the best of the city's architecture and gardens, including the Banco do Brasil Cultural Center and the Palácio da Liberdade, among many others.
All Gold Everything
Outside the city, take a step back in time at neighboring historic towns. Populated during Brazil's mining era, Ouro Preto features vibrant colonial architecture, including several picturesque churches and charming historic plazas. This UNESCO heritage site is tucked a little less than two hours away from the city and offers the perfect retreat from the modern Belo Horizonte.
Also worth visiting is the town Mariana, the original capital of Minas Gerais. The town is home to equally-beautiful streets and buildings, and a tragic history as the site of one of the worst flood disasters in Brazil.
No Beach? No Problem
There's a saying in Beagá: "There are no seas, thus there are bars." (It rhymes in Portuguese.) Without access to the beaches that make Rio so popular, the locals in Belo Horizonte head to bars like Bar do Antonio, where they stay for hours, drinking and socializing. One neighborhood with plenty of these watering holes is Savassi, a bohemian neighborhood packed with trendy coffee shops and boutiques. Walk through the neighborhood, stopping into packed bars or enjoying live music performances on the sidewalk. During football season, you can also find most of the population at Mineirão, one of the largest stadiums in Brazil and home to several 2014 FIFA World Cup games.
WHAT TO EAT
Breaking Bread in Brazil
Brazil is a culinary haven packed with fresh tropical fruits and fantastic traditional cuisine. The local fare in Belo Horizonte is no exception, and there's no better place to start than Mercado Central. Savor local cheese and fruit while perusing the handmade crafts. Make sure to try "pão de queijo mineiro" (cheese bread) and doce de leite (a caramelized candy) – two local specialties that will send your taste buds frolicking. Wash it all down with some local beer or cachaca, a Brazilian sugar spirit. When it's time for a sit-down meal, you can't go wrong at Xapuri, which serves the classic, rustic mineiros cuisine of Minas Gerais. Think fried ribs and rice or shredded beef served in a pumpkin.
STAY HERE
B&B in BH
This bustling city doesn't skimp on great hotels, and while you may not find the beachside resorts of Rio, Belo Horizonte has its share of nice (and inexpensive) places to call your own. Stay in the posh Savassi neighborhood at Royal Boutique Savassi Hotel or opt for the downtown Othon Palace Hotel for luxury. Peruse Airbnb for a trendy apartment with fantastic views.