Toro Toro Houston Proudly Introduces Chef Rafael Villalpando as New Chef de Cuisine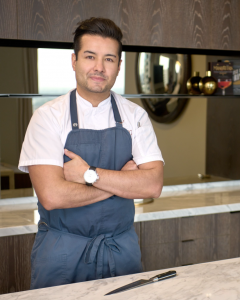 The highly anticipated Toro Toro Pan-Latin Steakhouse by Chef Richard Sandoval, is proud to introduce Chef Rafael Villalpando as its new Chef de Cuisine. The sumptuous restaurant will be open to the public this Fall. Chef Villalpando brings years of experience in the restaurant and hotel industry to downtown Houston, as well as a deep passion for modern Mexican and Latin cuisine, as Villalpando spent several years in Mexico.     
 "I am pleased to welcome Chef Rafael Villalpando to the Toro Toro Houston team as Chef de Cuisine. Chef Rafael brings his creativity, leadership, and extensive experience working in top hotels and resorts and with modern and contemporary Mexican and Mediterranean cuisine from his home of Mexico to New York City to Texas," said Chef Richard Sandoval. "For this opening, he will reunite with our global culinary team who worked with him at Rosewood Hotels and at Toro Toro in Fort Worth. His passion is evident in his execution of flavors, aromas, and presentation and I think he will very quickly make a great impression on Houston." 
Rafael, who was born in Los Angeles and raised in Mexico, was inspired to cook by his grandmother. He has worked in high-end restaurants in Monterrey, Mexico, New York City, and most recently, Fort Worth serving as the Chef de Cuisine at Toro Toro Fort Worth, located within the Worthington Renaissance Fort Worth Hotel. Prior to that, he held the position of Kitchen Supervisor / Sous Chef at 18 Oaks Restaurant, located within the JW Marriott San Antonio.  
Chef Villalpando has an extensive background from working in hotels and high-volume, multi-outlet establishments such as his vital contribution to the pre-opening of the Rosewood Hotel in San Miguel de Allende. Villalpando was part of the pre-opening team where he served as the Chef de Cuisine alongside Executive Chef Carlos Hannon. Throughout his time at the Rosewood Hotel, Villalpando showcased his diverse set of skills as he was heavily involved in the development of the menus, exhibited leadership in the kitchen with coordination and organization of the staff, and implementation of a sanitation system. A graduate of Corpus Instituto Gastronómico, Villalpando has been noticed for his work with numerous awards including being named the Culinary Hotel Winner for Marriott's Masters of the Craft Culinary and Mixology Awards two years in a row, 2018 and 2019, from his time with the JW Marriott San Antonio.  
"As a Latin born in Los Angeles California and raised half my life in Mexico, I have always enjoyed cooking and experimenting with Latin flavors," said Rafael Villalpando, Executive Chef at Toro Toro. "I am quickly discovering Houston to be a major culinary city that brings diversity and pride to its melting pot of cultures. So far, my time here has been incredible and I cannot wait to share my cuisine with the city." 
In preparation for the grand opening of Toro Toro Houston, Chef Villalpando has been training diligently with Executive Chef of Four Seasons Hotel Houston, Chef Paul Peddle, and experiencing all that Houston has to offer. When Chef Villalpando is not at work, he enjoys spending time with his wife and child. He loves exploring cities by visiting local food trucks, especially when they involve tacos or spicy dishes. Rafael is a NASCAR and Formula 1 fan and enjoys mountain biking and skiing in his free time.    
This Fall, Chef Richard Sandoval will bring his award-winning global Pan-Latin Steakhouse concept to the Four Seasons Hotel Houston. With a twist on the contemporary steakhouse experience, Toro Toro Houston is vibrant with Pan-Latin flavors, an open ceviche bar, and a vigorous love for the city of Houston. Toro Toro Houston is located in downtown Houston at 1300 Lamar St, Houston TX 77010.