Top 10 most stolen cars in Texas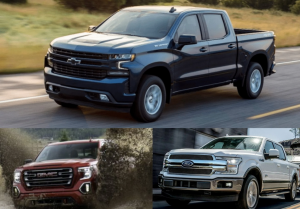 With car prices continuing to soar thanks to the global microchip shortage, there are plenty of reasons to keep your older vehicle if it's working well. These cars may be a good target for theft since they lack several security systems seen in more modern vehicles. However, keep in mind that your trusted vehicle may also appeal to criminals.
According to the National Insurance Crime Bureau " Hot Wheels " list, here's a list of the top 10 most stolen vehicles in Texas.
Top 10 most stolen cars in Texas
| | |
| --- | --- |
| Model | Units stolen |
| Chevrolet Pick-up (Full-size) | 9,382 |
| Ford Pick-up (Full-size) | 8,433 |
| GMC Pick-up (Full-size) | 2,891 |
| Dodge Pick-up (Full-size) | 2,481 |
| Chevrolet Tahoe | 1,814 |
| Honda Accord | 1,423 |
| Nissan Altima | 1,407 |
| Toyota Camry | 1,369 |
| Ram Pick-up (Full-size) | 1,340 |
| Honda Civic | 1,197 |
Not surprisingly, full-size pick-up trucks top the list of most stolen vehicles in Texas. While Chevrolet and Ford pick-up trucks are the most targeted vehicles in the state, other GMC, Dodge, and Ram models are not far behind.
Sedans are the second most stolen type of car in the Lone Star state, with the Honda Accord topping the list. The Nissan Altima, Toyota Camry, and Honda Civic are the other sedans that are theft magnets in Texas.
How can I protect my car from theft in Texas?
The most efficient method to ensure that your car does not get stolen is to lock all doors and shut the windows when you exit the vehicle. Most vehicles that made it to the list above were manufactured in an era before "smart keys" became popular. Hence, installing a modern anti-theft system with an audible alarm and an engine immobilizer could help deter car thieves from stealing your vehicle.
However, if you don't want to spend a fortune on car safety equipment, there's another great option for you: comprehensive car insurance.