Thousands of flights canceled as travel chaos threatens Fourth of July weekend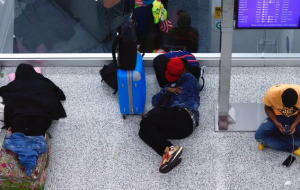 Americans may have to put their weekend celebrations on hold. Travelers in the US faced a chaotic week leading up to the Fourth of July weekend as soaring flight delays and cancellations were seen across the country.
From Monday through Wednesday, at least 28,000 flights were delayed each day, and at least 1,200 were canceled, with Monday and Tuesday seeing about 2,200 cancellations each, according to the flight-tracking website FlightAware. The Federal Aviation Administration (FAA) forecast 29 June would be the busiest day for air travel during the summer, with 52,564 scheduled flights. By 1pm ET on Thursday, over 19,000 flights across the country had been delayed and 1,160 had been cancelled, according to FlightAware.
Typically just over a thousand flights are delayed and a few hundred are canceled on a given day. Airlines and federal transportation agencies have struggled with severe weather and staffing issues recently, issues that can cause headaches throughout the airline industry and for fliers even without the record-high travel numbers seen this summer. But the surge in holiday travel has exacerbated the situation.
The Transportation Security Administration's (TSA) daily checkpoint travel numbers, which reports the number of fliers passing through TSA checkpoints, shows that more people have been flying in the days before the Fourth of July weekend this year compared to previous years, including before the pandemic.
The auto insurance agency AAA projects that 50.7 million Americans will travel over 50 miles (80km) for this Fourth of July weekend, with just over 43 million traveling by car. This beats 2019, when 49 million Americans traveled for the holiday, the previous record for the number of Fourth of July travelers.
"What this tells us is that despite inventory being limited and some prices 50% higher, consumers are not cutting back on travel this summer," AAA said in a statement.
While multiple airlines have been experiencing delays and cancellations, passengers on United have been the most affected over the last week, with the airline seeing over 2,000 cancellations and over 40,000 of its flights experiencing delays, according to FlightAware, the most of any airline.
The huge disruptions affecting the airline are reminiscent of the airline industry in December, when Southwest Airlines' internal software system crashed after a winter storm caused severe delays and cancellations. Weather events can ultimately lead to staffing issues for airlines, who often schedule crews and pilots on a tight timeline.
In a memo to United employees on Monday, the United CEO, Scott Kirby, said that an estimated 150,000 United customers were affected by delays or cancellations that were exacerbated by FAA staffing shortages. The FAA limited arrivals and departures out of the New York area on 24 June as storms had an impact.
"It led to massive delays, cancellations, diversions, as well as crews and aircraft out of position," Kirby said. "That put everyone behind the eight ball when weather actually did hit on Sunday and was further compounded by FAA staffing shortages Sunday evening."
A report on the FAA released on 21 June said that the agency had been facing air traffic controller staffing issues since the start of the pandemic. Twenty of the 26 major air traffic control centers in the country are staffed at below 85% of the staffing threshold. New York's air traffic control center, which serves the city's three large airports, is staffed at 54% of the threshold.
Though the FAA has not directly responded to United's allegations, the federal agency said in a statement that it "will always collaborate with anyone seriously willing to join us to solve a problem".
On Twitter on Thursday morning, the transportation secretary, Pete Buttigieg, wrote: "With the exception of United, airlines have recovered to a more typical cancellation/delay rate as of this morning after the severe weather earlier this week.
"FAA will continue to work with airlines to help them minimize disruptions during the busy 4th of July travel weekend," Buttigieg wrote.
A day earlier, Buttigieg posted a video of himself on a commercial flight saying that the department is "closely watching air travel this week".
"Weather has been rough, especially in the last four to five days. It caused a lot of cancellations and delays for many passengers around the country," he said. "We've known that summer is going to be a stress test on the system."
Source: www.theguardian.com