Texas senators include more property tax cuts for businesses in new pitch to break impasse with House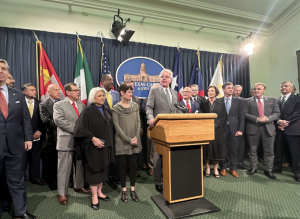 The Texas Senate advanced a new bill Tuesday to cut property taxes for all land-owning Texans — but because House members adjourned weeks ago, the future of the proposal is unclear.
The $12.7 billion proposal moved swiftly out of the Senate's Finance Committee and the full chamber, clearing both steps with no opposition. Lt. Gov. Dan Patrick, flanked by Senate Republicans and Democrats during a press conference following the vote, called on the House to return to the Capitol in Austin in the remaining days of the special legislative session to rubber-stamp the proposal.
"The taxpayers are waiting for their tax cut and the clock is ticking," Patrick said Tuesday.
The new Senate proposal — pitched by state Sen. Paul Bettencourt, a Houston-area Republican and the Senate's point person on property tax cuts — would provide targeted tax relief to Texas homeowners, send state dollars to school districts so they can cut their tax rates and give more businesses a break on their franchise tax bills. The proposal also puts tighter revenue caps on school districts, a bid to even further drive down tax rates.
"This is about as win-win-win as you can get," Bettencourt said Tuesday on the Senate floor.
It wasn't immediately clear whether the idea would be acceptable to Texas House Speaker Dade Phelan or Gov. Greg Abbott, though Patrick said Tuesday the Senate proposal includes "the best of what there was quite a bit of agreement on" between House and Senate negotiators who met over the weekend.
Abbott spokesperson Renae Eze on Tuesday reemphasized the governor's preference for a tax-cut proposal that only sends money to school districts to lower their tax rates, which could craft a path to eventually eliminating the school maintenance and operations tax — the bulk of a typical school property tax bill and something the state's conservative Republicans have long wanted to get rid of.
"The Governor has also been clear that the only way a property tax bill gets to his desk is for the Texas House and Texas Senate to agree to a bill and get it to the Governor's desk, and he encourages the two chambers to work towards a solution," Eze said.
Also unclear is how the bill would pass both chambers since the House has already adjourned for the remainder of the special session. The House could perhaps find a procedural workaround to reconvene but so far members haven't shown a desire to do so.
The House made its own move on property tax cuts Tuesday. As the Senate finance panel met Tuesday, Phelan named a new committee to study "sustainable property tax relief" but did not comment on the upper chamber's property tax-cut proposal.
"The burden of rising property taxes weighs heavily on our state's property owners, and it is imperative that we look beyond the current special session to identify long-term, sustainable solutions to this evergreen problem," Phelan said in a statement.
Texas has some of the highest property taxes in the nation, and the state's top Republicans have been at odds for months over how to cut them — a standoff that intensified in late May as Abbott entered the fray.
Abbott and Phelan joined forces to back a proposal that would send $12.3 billion to school districts to lower their tax rates, a tax-cut method known as "compression." The Abbott-Phelan proposal would cut property taxes for all Texas landowners, though it's friendlier to businesses and wealthier homeowners.
Abbott told lawmakers to narrowly focus on passing an all-compression tax-cut proposal when he called the special legislative session in late May. The House quickly complied and left town, signaling an unwillingness to negotiate with the Senate on any other proposals.
Patrick and Senate tax-cut proponents balked at the all-compression proposal and argued that any tax-cut package must include special relief for homeowners via a boost in the state's homestead exemption on school district taxes, or the slice of a home's value that can't be taxed to pay for public schools.
The Senate's latest tax-cut proposal would bring the homestead exemption to $100,000, in line with what Patrick had sought in recent weeks. Voters would have to approve such a boost through a constitutional amendment. But the window to get the amendment on the November ballot is closing; Patrick said lawmakers have about six weeks to approve the measure so it can appear on this year's ballot.