Texans Fall 30-28 in MNF Heartbreaker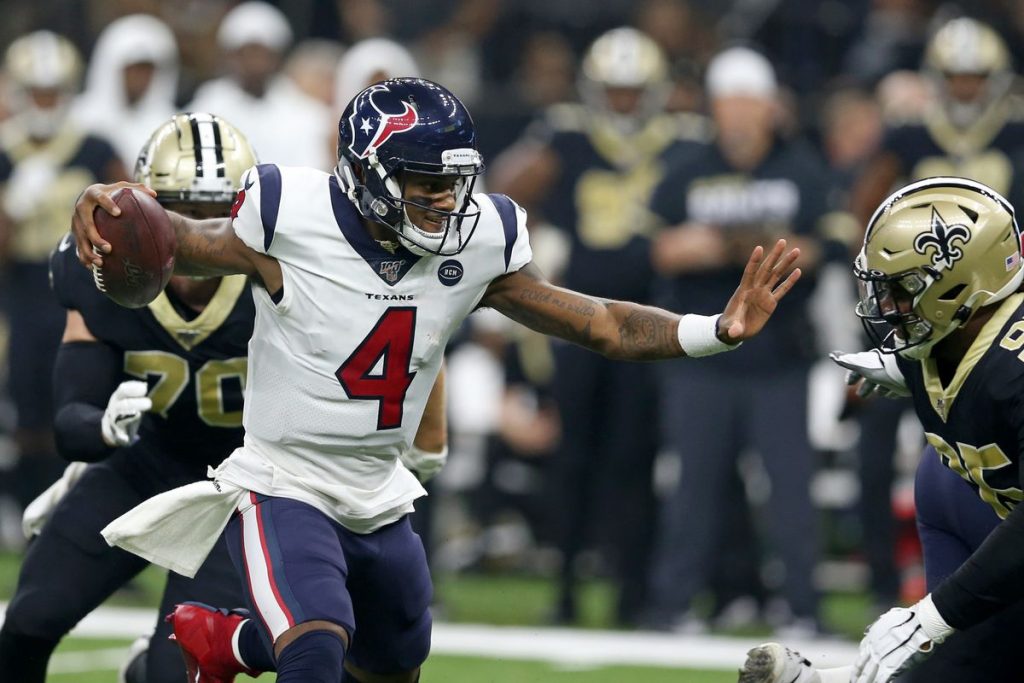 Story by Deepi Sidhu of the Houston Texans
The Texans fell 30-28 in a heartbreaking loss to the New Orleans Saints. Deshaun Watson led the offense on a two-play, 75-yard touchdown drive to take the lead with just 37 seconds left in the game, but the Saints won with a walk-off 58-yard field goal at the Mercedes-Benz Superdome.
"We've got a good football team in there and we're never out of it, so even when things aren't going so good, as long as we can keep it within range, we're in every game," head coach Bill O'Brien said. "And I think that's what Deshaun Watson gives us. He's a great football player and he's competitive and he's calm and he's poise – he's got all that. We just need to go back and watch the tape and fix some things and I think if we fix them and work hard and don't let one game define us then we've got a chance to have a good football team."
Watson completed 20-of-30 for 268 yards, three touchdowns and one interception for a 114.3 passer rating. He also added 40 rushing yards and a score.
"We came so close but we didn't do enough to pull it off," Watson said.
DeAndre Hopkins led the wide receivers with eight catches for 111 yards receiving and two touchdowns. The Texans collectively rushed for 180 yards, led by Carlos Hyde who had 10 carries for 83 yards on the ground.
Hyde, Duke Johnson, Tunsil and Kenny Stills all played a good portion of the game in their first game as Texans players.
"I thought the new players came in and learned really well, picked up our system and did some good things and we have to build on that," O'Brien said. "Some of these guys have only been here a week and they went in there and really contributed so there's a lot to build on."
Whitney Mercilus recorded his first career interception in addition to five tackles, one sack, one tackle for loss, one quarterback hit and one pass defensed.
Late in the first quarter, Mercilus picked off Drew Brees at the Houston 11-yard line. The Texans offense took over deep in their own territory at the four-yard line, but quickly flipped the field after a 54-yard play by Will Fuller V, in his first game back after last year's season-ending knee injury.
Will Fuller doing his best Randy Moss impersonation! 😳@HoustonTexans@Will_Fuller7@RandyMoss#HOUvsNO
📺: ESPN
📱: NFL app // Yahoo Sports app

Watch on mobile: https://t.co/61B66fsGkc pic.twitter.com/xJ7VSRkkpJ— NFL (@NFL) September 9, 2019
On fourth down, Watson scored on a 21-yard touchdown run. The Texans took a 7-0 lead, but Watson did leave the game to get examined. He did not miss a play, returning on the next drive.
"He dove and landed on his butt, and that probably didn't feel real good, but he came back and he's fine," O'Brien said after the game.
Watson capped off the Texans next two series with touchdown passes to Hopkins.
After taking a 14-3 lead at halftime and then 21-10 in the third quarter, the Texans were unable to stop Drew Brees from throwing two touchdown passes in the second half.
The Saints scored to start the fourth quarter after Watson's pass, intended for Fuller, was picked off by safety Marcus Williams. Brees threw his second touchdown pass of the night as the Saints took a 24-21 lead early in the fourth quarter.
Houston's defense stopped the Saints offense on third down, forcing a 47-yard field goal. The Saints extended their lead 27-21 with 0:50 remaining in the fourth quarter. However, each time would get a chance to score one more time.
The Texans offense executed a comeback drive in just 13 seconds. Watson fired off a 38-yard pass to Hopkins who ran out of bounds. Kenny Stills scored his first touchdown as a Texans on a 37-yard touchdown catch against his former team. The Texans took a 28-27 lead.
With 37 seconds remaining, Brees led the Saints offense down to the Houston 40-yard line. Lutz kicked a career-long 58-yard field goal as time expired.
Not the ending any of us wanted. We'll watch the tape, learn, and be better from it. Eyes now on Jacksonville— Justin Reid (@jreid_viii) September 10, 2019
The Texans fall to 0-1 and will next face the Jacksonville Jaguars on Sunday at NRG Stadium.