Teen sentenced to 10 years after convicted in crash that killed 3 while working valet in W. Houston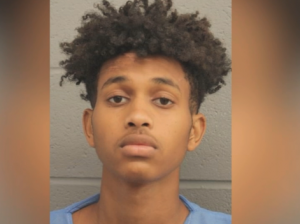 A young valet driver who hit and killed three people while running from police could spend the next decade in prison.
Ahmedal Modawi pled guilty to murdering Fnan Meashos, Eric Orduna, and Nick Rodriguez back in 2021. The victims also worked as valet drivers outside the popular bar, Prospect Park the night they were killed.
Harris County prosecutors wanted Modawi to spend the next 35 years in prison, but Judge Chris Morton ultimately decided on a 10-year sentence on Friday in court. When that decision came down, our partners at The Houston Chronicle reported there was a gasp in the courtroom.
Some of the victim's relatives said it was time to forgive while, others said they couldn't yet.
"We want justice for them. For all three. For all three. This should not have happened."
Amid their mourning back in the fall of 2021, relatives of the victims told Eyewitness News they wanted accountability for the actions that led to a horrific scene outside of Prospect Park in west Houston.
Three men valeting cars were walking down Fairdale when Ahmedal Modawi crashed into them during a chase with Houston police. They were trying to pull the 17-year-old valet over for doing donuts in someone else's car.
In court documents considered during sentencing, Modawi's defense attorney wrote, "For the complainants' families, lengthy incarceration won't give them answers to the questions of why, nor will it give them solace knowing a dangerous, career criminal is locked away. For society, likewise, there is no punitive goal achieved by lengthy incarceration. Ahmed is not a violent man with an extensive criminal history. Society is not made more secure with an excessive prison sentence."
The attorney for Fnan Measho and Eric Orduna provided a statement that says in part, "We appreciate the DA's office in prosecuting this individual, but there was more than one party responsible for their deaths. We want everyone held accountable."
There is a pending civil case against other entities, including Prospect Park and Premium Parking Service. Modawi was too young to legally work as a valet in Houston when the crash happened.
"Nobody protected Eric, and I'm very upset with that. We don't deserve this. Eric didn't deserve this at all," a relative said.
Since then, there have been two years of pain for them, leading to a 10-year punishment and the possibility of more accountability they've asked for.
Source: abc13.com