Technical fault forces U.S. spy satellite launch to be postponed to Thursday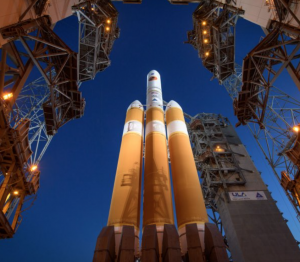 The launch of United Launch Alliance's heavy space launch vehicle with a spy satellite aboard for the U.S. Defense Department's NROL-68 space reconnaissance program was aborted early Wednesday due to a technical glitch.
The launch from Cape Canaveral Space Force Station in Florida was called off due to "an issue with a ground systems pneumatic valve," and liftoff had been pushed back to Thursday at 3:25 a.m. EDT, ULA said in a Twitter post.
The weather for the new launch window is forecast to be similar to Wednesday but slightly more favorable for a launch with an 80% chance of "go" conditions albeit with some potential for storms and wind gusts that could cause a delay.
"The highest threat for storms will target the afternoon and evening hours," Space Force forecasters said in a report Tuesday. "There is a risk that earlier storms and associated clouds may persist into the overnight hours as a series of upper-level disturbances interact with a surface boundary across north Florida."
The main causes for concern at Launch Complex 37, where the rocket is being prepared for its second launch attempt in 24 hours, were anvil clouds and ground wind, the forecasters said.
The penultimate launch of ULA's Delta IV Heavy rocket prior to it being retired was set to deliver the satellite into orbit for the National Reconnaissance Office, the agency which operates U.S. reconnaissance and intelligence-gathering satellites.
The Delta IV last lifted off from Florida in December at the sixth attempt after a series of technical issues and delays from bad weather saw the five previous countdowns aborted.
ULA is expected to replace its 20-year-old launch work-horse with its next-generation Vulcan Centaur rocket in the coming months.
However, the new rocket is still undergoing flight readiness testing and the company was forced to call off the first-ever launch pad engine test late last month due to a technical fault with the booster.
Source: www.upi.com