TEA takeover of HISD to last at least 2 years, transition back will take 3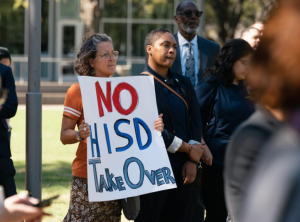 Overnight, ABC13 heard Houston ISD leaders face off with a Texas Education Agency representative as the state is in the process of taking over the district. Now, we're getting a better idea of how the process will play out.
The board meeting was part business, part TEA presentation to the current board. As far as that portion of the meeting, TEA commissioner Mike Morath was not present to answer questions. A deputy commissioner was present instead.
Steve Lecholop said the takeover is temporary, and the district will ultimately go back to local or elected power.
After two years, the TEA commissioner will evaluate HISD to decide if the takeover can end. At that point, power could be given back to the local elected school board and select members at a time over a three-year period.
Another outcome would be extending the state's takeover for up to another two years if the commissioner decides requirements haven't been met.
Now, what are those requirements? The TEA mentioned three things:
Schools cannot have multi-year failures
Special education programs must meet legal requirements
Effective board governance
"Create a sustainable systems and structures that will outlast the board of managers, that will serve as foundation for elected board to return once the exit criteria are achieved. We are in the process of creating more objective measures. So, expectations of attaining these exit criteria can be created," Lecholop said.
The TEA said, despite the fact the elected board is being replaced, they'd like for them to stick around and serve as advisors to their replacements.
Board members reiterated they wanted Commissioner Morath to answer their questions directly, instead of sending in a deputy.
In the meantime, your chance to be a part of the Texas Education Agency's new board of managers for HISD has been extended until April 20. You must live within district boundaries.